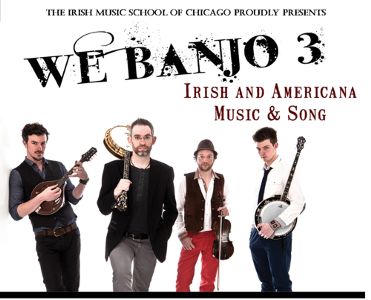 Chicago, IL -- The Irish Music School of Chicago presents two of the most exciting traditional Irish music bands teaching workshops and in concert in August at Chief O'Neill's Restaurant & Pub. We Banjo 3 will be teaching (6:30 p.m.) and performing (8 p.m.) on August 6, and Beoga will be teaching (5:30 p.m.) and performing (8 p.m.) on August 20.
Award-winning quartet We Banjo 3 from Galway, Ireland combine Irish Music with Old-Time American and Bluegrass influences to reveal the banjo's rich legacy and roots. When this band of brothers take flight in a wave of virtuosity, verve, and joie-de-vivre, feet tap and pulses race. Enda & Fergal Scahill and Martin & David Howley are among the most celebrated and distinguished young musicians in Ireland today.
Featuring banjo, fiddle, mandolin, guitar, vocals, and percussion, We Banjo 3 make a bold and extraordinary musical statement. Creativity, sensitivity, and passion are present in full measure, and Irish music is at the heart of what they play. Collectively, We Banjo 3 have been at the forefront of Irish banjo and fiddle for 2 decades. Their competitive success is unrivaled, Martin holding 7 All Ireland titles, Enda with 4, while Fergal and David hold All Ireland titles on Banjo, Fiddle, Bodhran, and Guitar.
Beoga (gaelic for 'lively') are based in County Antrim in the north of Ireland. The bedrock of their sound lies firmly within the Irish tradition. However, they are not afraid to incorporate other genres' nuances into their music. From bluesy riffs to Astor Piazzola-style jazz, to a raunchy New Orleans jamboree vibe, their music always returns to a wonderfully bouncy Irish sound. The result is traditional with a huge sense of fun and adventure, and it all works wonderfully well. The Wall Street Journal describes them as "the most exciting new traditional band to emerge from Ireland this century." Irish Music Magazine writes, "Nobody does this stuff better at the moment. Beoga are at the forefront of the new Irish wave."
August 6

We Banjo 3 Repertoire Workshop (6:30 p.m.): $20
We Banjo 3 Concert (8 p.m.): $25 Adults/ $15 Seniors/Children

August 20

Beoga Master Bodhrán Class with Eamon Murray (5:30 p.m.): $30
Beoga Repertoire Workshop (6:30 p.m.): $20
Beoga Concert (8 p.m.): $20 Adults/ $15 Seniors/Children
Additional questions: info(at)irishmusicschool(dot)org or (773) 412-5082
The Irish Music School of Chicago is a leader in teaching traditional Irish music to students of all ages by utilizing the traditional methods of teaching by ear and telling the stories behind the tunes, and the significance of being part of a living musical community. As a not-for-profit organization, the Irish Music School is committed to maintaining the strong tradition of Irish music, song, and dance, to involve more people in the community of Irish music, and ensure that this type of music does not disappear in Chicago and the United States.