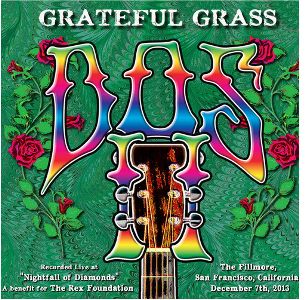 Today, singer/songwriter/multi-instrumentalist Keller Williams and Grateful Dead's Rex Foundation release DOS. DOS is the second Keller Williams' Grateful Grass album to benefit the charitable non-profit organization started by the Grateful Dead to give grants to a variety of worthwhile causes. DOS is available for digital purchase now at nugs.net, with 100% of the proceeds going to benefit The Rex Foundation.
Culled from the live recording of "Nightfall of Diamonds"-?A Benefit for the Rex Foundation ?at The Fillmore in San Francisco on December 7, 2013, DOS features Keller Williams' Grateful Grass with Keller (guitar), Michael Kang (violin), Jeff Austin (mandolin), and Keith Moseley (bass) performing not-so-traditional bluegrass versions of beloved Grateful Dead songs. Among the ten tracks – "Jack Straw," "High Time," "Sampson and Delilah," and "Althea." View the full track list here.
DOS is the third album released by Keller Williams to benefit the Rex Foundation. Grateful Grass' 2008 recording, REX (Live at the Fillmore), and Keller's 2013 solo release, KEYS: A collection of Grateful Dead Covers on Piano, have raised tens of thousands of dollars to support the grants Rex Foundation distributes to grassroots non-profit programs. "Keller's contributions to Rex have been significant and worthwhile," says The Grateful Dead's Mickey Hart. "We have deep appreciation for the help he has provided in serving the community we all care about."
For Keller, it's his honor to participate in Rex Foundation projects. "They are all about music, creativity, and community," he explains. "It makes giving to a great cause, great fun - and it's a perfect excuse to play Grateful Dead music."
Look for Keller Williams' Grateful Grass performing at a handful of upcoming festivals including Arise Music Festival, YarmonyGrass, Lockn', Utopiafest, and DSO's Jam In the Sand. Featuring an ever-rotating cast of musicians, this summer/fall Grateful Grass offers up such players as Billy Nershi, Jeff Austin, Keith Moseley, Allie Kral, Reed Mathis, Vince Herman, and Sam Grisman. See below for exact Grateful Grass lineups and for Keller Williams' complete summer/fall tour schedule.
The complete list of currently confirmed Keller Williams tour dates is as follows:
Friday, August 1 Gathering of the Vibes Bridgeport CT
Sunday, August 3 Salmonstock Ninilchik AK
Saturday, August 9 Rhythms On the Rio Festival South Fork CO
Sunday, August 10 Arise Music Festival Loveland CO Keller Williams' Grateful Grass featuring
Billy Nershi, Reed Mathis, and Allie Kral
Saturday, August 16 YarmonyGrass Music Festival Bond CO Keller Williams' Grateful Grass
featuring Jeff Austin and Keith Moseley
Friday, August 29 The Ville Fest North Lawrence OH
Saturday, August 30 Big Moon Rising Music Festival Big Sky MT Keller Williams with More Than A Little
Sunday, August 31 Red Lion Hotel Kalispelll MT
Friday, September 5 - Sunday, September 7 Lockn' Arrington VA Keller Williams' Grateful Grass
featuring Jeff Austin and Keith Moseley plus Keller Williams Grateful Gospel Featuring More Than A Little w/ John Kadlecik (Furthur)
Thursday, September 11 (Utopia Fest Pre-Party)- Friday, September 12 Utopiafest Utopia TX Keller Solo and Keller Williams' Grateful Grass Featuring Jeff Austin and Sam Grisman
Thursday, September 18 Phoenix Concert Theatre Toronto ON with Canada Chameleon Project
Friday, September 19 The Tralf Buffalo NY
Saturday, September 20 Sherman Theater Stroudsburg PA
Thursday, September 25 - Saturday, September 27 Watermelon Park Fest Berryville, VA Keller
solo, Keller & The Keels, and Keller Williams with More Than A Little
Thursday, October 2 Legends at Appalachian State University Boone NC
Friday, October 3 The Chop Shop Charlotte NC
Friday, October 10 The Festy Experience at Devil's Backbone Roseland VA Keller Williams with
More Than A Little
Thursday, October 16 Terminal West Atlanta GA Keller Williams with More Than A Little
Friday, October 17 Magnolia Music Festival Live Oak Fl Keller Williams with More Than A little
Thursday, November 6 Port City Music Hall Portland ME
Friday, November 7 Paradise Rock Club Boston MA
Saturday, November 8 Higher Ground South Burlington VT
Thursday, November 13 The Bluebird Bloomington IN
Friday, November 14 Copper Dragon Carbondale IL
Saturday, November 15 The Blue Note Columbia, MO
Friday, February 27 - Monday, March 2 DSO Jam in the Sand Negril Keller Williams' Grateful
Grass Featuring Vince Herman, Sam Grisman & Allie Kral plus Keller & His Compadres & Keller Williams Solo
Additional dates to be announced.
Since he first appeared on the scene in the early '90s, Keller Williams has defined the term independent artist. And his 16 recordings tell only half the story. Keller built his reputation initially on his engaging live performances, no two of which are ever alike. Williams' solo live shows—and his ability to improvise to his determinedly quirky tunes despite the absence of an actual band—quickly became the stuff of legend, and his audience grew exponentially when word spread about this exciting, unpredictable performer.
Today, whether performing as a one-man band (a stage show constructed around Keller singing his compositions and choice cover songs while accompanying himself on an acoustic guitar and creating samples on the fly in front of the audience, a technique called live phrase sampling or looping), with a backing band (of which he has many - Keller and The Keels, Williams with Moseley, Droll and Sipe, and most recently Keller Williams with The Travelin' McCourys and with his new six–piece outfit More Than a Little, among others), or solo acoustic with simply he and his guitar, Keller always reveals himself as an artist of great stylistic breadth and infinite imagination.
He is a singer, songwriter and musician, always on a quest for the new. Keller Williams has never followed the prescribed path laid out by the conventional music business but rather one of his own making. It's a path that has served him well.
Furthering what the Grateful Dead started in 1983, the Rex Foundation endeavors to fund grassroots programs that are often under the radar of larger funding entities, yet work in bold, innovative ways to carry out essential work toward a healthy environment, promotion of the arts, protection of indigenous cultures, assisting others less fortunate, building strong communities, and educating children and adults. The Rex Foundation has distributed $8.8 million in grants to over 1,100 programs across the U.S. and internationally, while also carrying out fundraising initiatives that foster creativity and positive community connections. Visit www.rexfoundation.org [1] for a complete list of grantees and information about current initiatives.