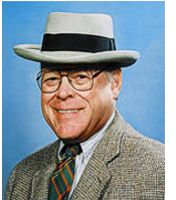 Little York, NY -- Bill Knowlton's 42nd annual Bluegrass Ramble Picnic is this Sunday, August 3rd, as usual at Dwyer Memorial Park, the home of the Cortland Repertory Theater, in Little York NY The Picnic is the longest-running bluegrass and acoustic oldtime country music event in New York State, starting in August 1973.
Bill Knowlton's Bluegrass Ramble is Central New York's first and now only all-bluegrass and old-time acoustic country music radio show. Knowlton, dubbed by some as "Mr. Bluegrass of Central New York", hosted the first all-bluegrass radio show in New York City in 1960. Coming to Syracuse as a US Air Force Public Affairs Officer, Bill started the "Bluegrass Ramble" on WCNY-FM in January 1973.
In 1997, Bill was named "Broadcast Personality of the Year" by the International Bluegrass Music Association. He emcees at least 13 bluegrass festivals every year and writes liner notes for bluegrass and old-time country music artists. Bill is a resident of Liverpool, NY. To celebrate: a recreation of a old-time radio barn dance complete with a studio audience and three Central NY bluegrass bands participating.
The Picnic is free, and all of the bands donate their musical services. It runs from 10 a.m. to 7 p.m. and is held in a huge tent so weather is not a problem. WCNY-FM records the entire show for a broadcast on Classic FM the following spring. Food and beverages will be available and the Picnic hosts arts & crafts vendors and band tables with CDs and bluegrass souvenirs. In addition Custom Pearl Inlay, Malone NY has donated a Bristol By Blue Ridge Guitar to be raffled to help pay annual expenses.
Attendees should bring lawn chairs, and Picnic goers should check out the many bluegrass and oldtime music jam sessions going on throughout Dwyer Park. Dwyer Memorial Park is south of Exit 13 (Preble) off I-81; drive south on Rt. 281 to Little York.
Further information is available online at www.wcny.org [1].