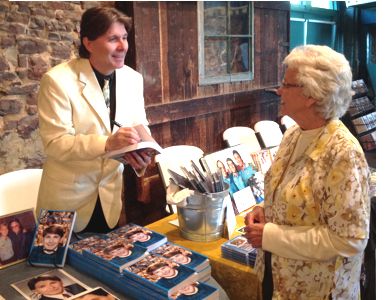 Author/actor Randall Franks said he seeks to inspire others to find the encourager within through his latest book series – Encouragers. The first of the series Encouragers I : Finding the Light released this month worldwide from Peach Picked Publishing shares 49 stories of actors, musicians and everyday folks who played a role in his early life.
"God blessed me with so many opportunities allowing me to perform for millions around the world, appear for the Grand Ole Opry and star on two American television networks," Franks said. "Those doors were opened to me because people from all walks of life took the time to encourage me from young age. Even when there was no indication of what my talents would be and where they could lead, encouragers were already sharing their light with me."
The first volume of the series highlights performers such as WSB Barndance stars Cotton and Jane Carrier and Grand Ole Opry star Bashful Brother Oswald; American icon Bob Hope and "Gunsmoke" legend Ken Curtis; country music masters Bill Monroe and Johnny Cash; bluegrass hall of famers Lester Flatt and Earl Scruggs and "The Andy Griffith Show" star Doug Dillard; and heralded gospel music performers the Marksmen Quartet, the Lewis Family and Jeff & Sheri Easter.
Franks said individuals sharing their light is what he hopes will come as people read his book which features narratives about and interviews with those who helped shape his life and career.
"Early in life our families help to shape who we are but soon others reach out to make a difference that sometimes can simply be in passing or can be more substantial over time, but no matter how in depth, the smallest encouragement can change the direction of someone's life when it is needed the most," he said.
Franks, who is best known as "Officer Randy Goode" from the TV series "In the Heat of the Night," starred in three series and 14 films. He became a country music personality as a youth beginning appearances at major country, folk, bluegrass and gospel events such as Country Music Association Fan Fair, National Folk Festival, National Black Arts Festival and for the Grand Ole Opry. With 19 career albums in four genres, he has performed to over 145 million fans around the world. Musically, he is recognized as an International Bluegrass Music Museum Legend and Independent Country Music Hall of Fame member. He is a syndicated columnist featured in newspapers across the Southeast and Midwestern U.S.
The 364-page book includes over 260 photos including 149 special Moments in Time photos featuring over 100 stars from Garth Brooks to Marty Stuart, Loretta Lynn to Alison Krauss from Randall's personal collection and 49 celebrity, family and friend recipes. The book is available online at http://randallfranks.com/ [1] for $25 including postage and handling and through book outlets around the world. Fans may also like the series on and learn more on the Encouragers I, II and III Facebook page [2].
right