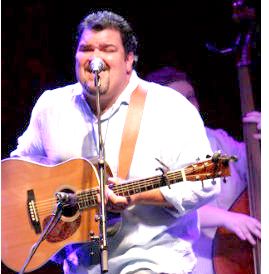 Nashville, TN -- Dave Adkins has not only been gaining attention for his powerful live performances and one of a kind lead vocals, but he's also acheiving great chart success with numerous tracks from his Mountain Fever Records' album, Nothing To Lose. "Pike County Jail" was the biggest chart mover on this month's Bluegrass Unlimited Magazine Top 30 Song chart climbing to #19 from its debut at #30 last month. The album moved up on the magazine's Top 15 Album chart to #12 from its debut at #15 last month.
Adkins' original song, "Pike County Jail," is #1 again on the Bluegrass Today Weekly Chart where it has landed in the top spot three times this year and appeared on the chart for 13 consecutive weeks. The popular tune is #2 on the Bluegrass Today Monthly Top 20 for July.
Nothing To Lose also appears at #3 this week on the Roots Music Report (RMR) Top 50 Bluegrass Albums Chart with TWO songs hitting the RMR Top 50 Song Chart - "Tennessee Twister" at #3 and "Nothing To Lose" at #5.
The bluegrass gospel track, "Don't' Pray That Way" just made its debut at #9 on the Singing News Magazine Gospel Chart.
Dave Adkins & Edgar Loudermilk are currently on tour including this weekend's huge Pigeon Forge Patriot Festival held at Patriot Park in Pigeon Forge, TN. Thousands gather every year for this free July 4th celebration. This year's entertainment line-up includes headliner Lonestar, along with Adkins & Loudermilk, the Pigeon Forge Community Chorus, Tim Kellar Band, the Jimmy Buffet tribute band Sons of Sailors.
Adkins & Loudermilk's busy summer tour continues with more July performances: July 12 at the Grant Street Music Room in Clarkesville, Georgia; July 17 at the Musicians Against Childhood Cancer festival in Columbus, Ohio; July 19 at the Mountaineer Opry House in Milton, WV; July 20 at the Southern Cove Bluegrass Festival in New Enterprise, PA; and July 31 at the Pickin' in the Parsons Festival in Parsons, WV.
Please visit AdkinsLoudermilk.com, like them on Facebook, follow them on Twitter, and download the SongKick Appo to your smart phone for a complete tour schedule.