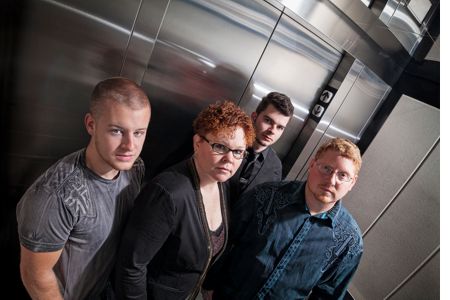 Siler City, NC -- Nu-Blu, the fastest rising act in bluegrass music, is gearing up to release their forthcoming Rural Rhythm Records album, All The Way, on September 16. The new music will serve as the follow-up to their last album, "Ten," which coincided with the foursome's musical journey as a band for a full decade.
"With this new project we are going all the way by stepping outside of genre boundaries and letting our fusion of musical tastes and interpretations guide us like never before," says lead singer Carolyn Routh. "Get ready, we have a few surprises in store and we've never been more excited."
The North Carolina natives will release the 10-track disc that will showcase the individual musicians talents. But get ready because there is a surprise vocalist, someone who is a member of the Rock & Roll Hall of Fame, has music in the Grammy Hall of Fame, and has proven to be masterful at crossing genres from Rhythm & Blues to Country to Pop and now is planning on leaving his mark in the Bluegrass world. The musical icon traded vocals with Carolyn on "Jesus and Jones," a song that pays homage to the late George Jones.
In addition, the 'queen of bluegrass' Rhonda Vincent makes a special vocal appearance on "That's What Makes the Bluegrass Blue."
Track Listing:
"That's What Makes the Bluegrass Blue" (Featuring Rhonda Vincent)
"A Little Good News"
"Rhythm of The Train"
"All the Way"
"Blackjack"
"Isn't She"
"Forgiveless"
"It's Not That Cold in Montana"
"Heavy Cross to Bear"
"Jesus and Jones" - featuring: Special Guest
Guest Musicians:
Rob Ickes - Dobro
Ron Stewart - Fiddle
Martin Parker - Drums
Greg Luck - Fiddle
Be prepared, and bring some sunglasses, because the future is looking very bright for Nu-Blu.