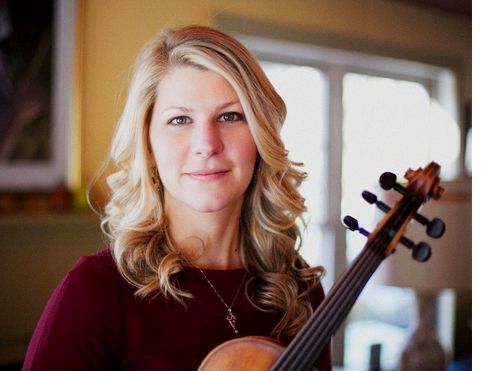 Austin, TX -- Lauren Rioux, Portland Maine's violin teacher and international performer has created an online learning community Jam With Lauren, that provides students from around the world access to her innovative curriculum and inimitable teaching style. Lauren's fiddle lessons provide instruction on popular fiddle tunes and the techniques used to play them in social settings, such as jams and gigs.
As a member you will have access to over 350 videos and counting. Lauren guides you through learning tunes, creating your own left hand & right hand variations on melodies, and how to hear & play chord progressions. Each tune includes a video to jam with, and a play along track to download. Theory, good technique, variations and practice tips are also included in these lessons.
The Jam With Lauren membership is $30 a month for unlimited access to the classes. See Lesson Example: https://www.jamwithlauren.com/lessons/shortnin-bread [1]
One of the online students says "What differentiates Jam With Lauren from any other online program is Lauren's extraordinary ease and confidence as a teacher. In these videos, we are in the hands of not only a masterful fiddle player but also a masterful teacher who understands how to break down a lesson in teachable moments and how to build meaning progressively through the arc of each lesson. This is a rare quality that only the most gifted teachers possess." Cellist Natalie Haas states that "Jam With Lauren is an amazingly well constructed curriculum whose purpose is not only to teach string players how to play standard fiddle repertoire, but also how to become better ensemble musicians. Lauren's warm personality makes it fun — anyone would be lucky to have her as a teacher!"
Lauren is enthusiastically sought out for her teaching expertise for over 15 years and leads camps and workshops across the globe. She maintains a very active private studio, which she teaches over thirty violinists, violists, and fiddlers ranging in age from 5 to 70. Lauren has toured the United States and parts of Europe with many string musicians. A proud Maine-iac, born in Portland and raised in East Machias, and graduating from University of Southern Maine with degrees in Violin Performance and Music Education on full-scholarship.
For more information:
http://jamwithlauren.com/ [2]
https://facebook.com/jamwithlaurenlessons [3]
http://laurenrioux.com/ [4]