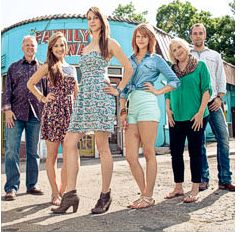 One of the fastest rising bluegrass artists, The Bankesters, captured the Best Bluegrass Album for their
Love Has Wheels
release at the 13th annual Independent Music Awards. The award comes on the heels of significant radio activity for the new album.
Love Has Wheels
has found itself on radio charts and "(Cups) When I'm Gone" is currently moving up the Bluegrass Unlimited Chart.
Music has always been a family affair for the Bankesters and as the children grew and matured, so did the band. "As dad, I'd been leading the band, but I've been trying over the last 2 to 3 years to step back from running everything," says Phil Bankester. "Everybody gives their input." Love Has Wheels is all collaboration - from song selection to who sings each part on each track.
Freshly nominated for the International Bluegrass Music Momentum Award for Group of the Year last year, the Bankesters have successfully transformed a shared love for singing and playing bluegrass music together into a serious performing outfit. Now, on their first internationally distributed album Love Has Wheels (Compass 9/24/13), The Bankesters shine as mature vocalists, instrumentalists, and articulate songwriters.
Though all family members contribute vocals here, they're also adept instrumentalists in their own right: 2012 IBMA Momentum Vocalist of the Year Emily contributes fiddle and claw hammer banjo, Alysha plays the mandolin and fiddle, and Melissa plays the upright bass. Kyle Triplett is the multi-instrumentalist of the group, playing banjo, guitar, mandolin and tenor guitar parts while Phil and Dorene hold down rhythm guitar and vocal duties.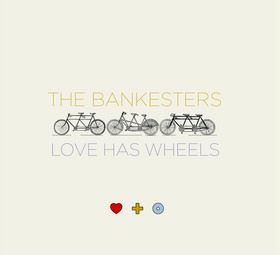 The family band has always possessed a genetic magic, gifting its members with a mysterious psychic connection and powerful vocal blend. A.P., Sarah and Maybelle Carter, the founding family of country music, had a profound impact in music through their tight mountain-gospel harmonies and signature sound, carried forward in the bluegrass-country-gospel music of the Marshall Family Band and later the Cox Family and continued more recently by The Whites who performed on the O Brother Where Art Thou soundtrack. Love Has Wheels is an album infused with the same familial magic and appeal and places the Southern Illinois-based Bankesters next in line to carry on that family bluegrass band legacy.