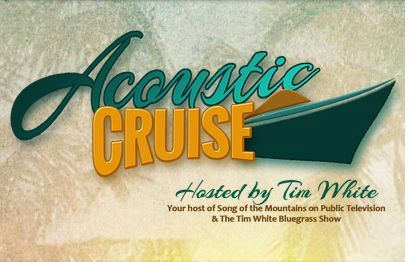 Bristol, TN/VA -- The Acoustic Cruise will be filled with bluegrass, comedy and gospel music and will depart from Charleston, South Carolina in November 5th on Carnival Cruise Lines. This is a five day cruise traveling to the Bahamas and will be hosted by Song of the Mountains Host Tim White and his band the VW Boys. White also hosts the syndicated radio show the Tim White Bluegrass Show each week as well. "We will have lots of fun and have a tremendous lineup of artists to provide great music and comedy", says White.
Scheduled to entertain on the Acoustic Cruise are Lou Reid and Carolina, David Browning as the Mayberry Deputy, the VW Boys, Dale Ann Bradley, who is an award winning female vocalist of the year several times over, Steve Gulley, Phil Ledbetter, Michael Reno Harrell and comedian Phil Campbell who is the son of the late Archie Campbell.
All of these artists are renowned in their respective fields of bluegrass, gospel and comedy. David Browning travels across the United States each year entertaining crowds at corporate events, baseball parks, racetrack and even law enforcement functions. Phil Campbell was a regular on the syndicated Hee Haw program and accompanied his famous father for years on hundreds of stages. The VW Boys will provide Americana music with comedy and the "Magic of Dave Vaught". Lou Reid & Carolina along with Phil Ledbetter and Steve Gulley are top names in the bluegrass and bluegrass gospel world as well.
"Cabins on the ship are limited and folks need to register by June 30th which is our cutoff date", says Kathy Kennedy of Cruise Planners. Kathy is a veteran of planning and orchestrating cruises and she will assist anyone who needs her help in registration.
Carnival Cruise Lines will make a monetary donation to the Appalachian Cultural Music Association once 100 cabins are sold. The ACMA is a non-profit organization based in Bristol, TN/VA which promotes and preserves the music of the Appalachian Region. The ACMA also provides the public free admission to their Mountain Music Museum at 626 State Street in Bristol, TN/VA.
For information online visit www.acousticcruise.com [1] or call 1-877-288-7711 for reservations.