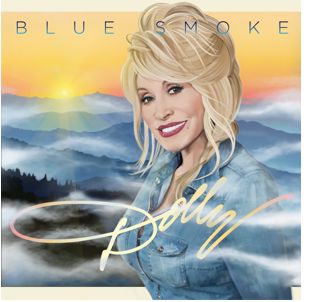 Nashville, TN -- The most celebrated female in country music history, Dolly Parton, adds another career milestone to her long list of accomplishments!!! With the release of her 42nd studio album, Blue Smoke, Parton scores her highest charting solo album ever. Parton, amazingly, has only visited the top 10 of the Billboard 200 once: with the collaborative set "Trio," with Emmylou Harris and Linda Ronstadt. It peaked at No. 6 on May 2, 1987, after earlier debuting at No. 38 on March 28, 1987.
"I am glad that people are enjoying the music from my new Blue Smoke album. It feels great to be in the Top 10," says Dolly Parton. "It's always an honor to know the fans spend their hard earned money on my music. Thanks everybody!"
In terms of Parton's solo efforts, she's gone as high as No. 11 on the Billboard 200 with "9 to 5 and Odd Jobs," on March 21, 1981. That album of course featured her No. 1 Billboard Hot 100 single "9 to 5", as well as the No. 41 hit "But You Know I Love You" and the No. 77-peaking "The House of the Rising Sun."
Parton's chart history on the Top Country Albums chart is more befitting of her living-legend status: She's notched 42 top 10 albums, with six of them going to No. 1. On the Hot Country Songs chart, she holds the record for the most No. 1s among women, with 25.
Dolly is the most honored female country performer of all time. Achieving 25 RIAA certified gold, platinum and multi-platinum awards, she has had 25 songs reach number 1 on the Billboard Country charts, a record for a female artist. She has 42 career top 10 country albums, a record for any artist, and she has 110 career charted singles over the past 40 years. All-inclusive sales of singles, albums, hits collections, paid digital downloads and compilation usage during her Hall of Fame career have reportedly topped a staggering 100 million records world-wide.
She has garnered 7 Grammy Awards, 10 Country Music Association Awards, 5 Academy of Country Music Awards, 3 American Music Awards and is one of only five female artists to win the Country Music Association's Entertainer of the Year Award. Dolly was inducted as a member of the Country Music Hall of Fame in 1999. And the litany goes on.
Dolly's career has spanned nearly five decades and is showing no signs of slowing down. An internationally-renowned superstar, the iconic and irrepressible Parton has contributed countless treasures to the worlds of music, film and television. Some of her hit films have included Nine to Five, Steel Magnolias, The Best Little Whorehouse in Texas, Rhinestone, Straight Talk, and Joyful Noise. Parton received two Oscar® nominations – one for writing the title tune to Nine to Five and the other for Travelin' Thru from the film Transamerica.
Check out the Cybergrass Dolly Parton 'Blue Smoke' Track-by-Track for Bluegrass [1]