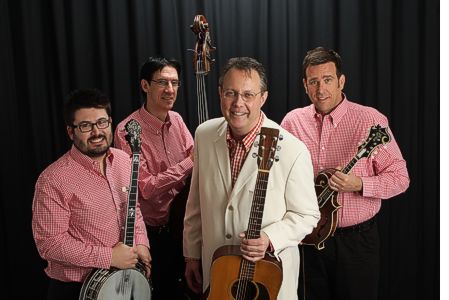 James Reams & The Barnstormers, the band that was nominated by the International Bluegrass Music Association in 2002 as Emerging Artist of the Year, will be performing at the Smoked Country Jam on Saturday, June 21st along with Danny Paisley & The Southern Grass as well as The Hillbilly Gypsies and many more. The festival runs June 19-21 and is held at the Quiet Oaks Campground in Cross Fork, PA (just 65 miles north of Williamsport, PA). Tickets can be purchased online through Purple Pass. For more information about camping call 877-722-2674.
Located in the heart of the Pennsylvania Wilds near Bucktail State Park Natural Area, this 3-day family-friendly event brings together performers from all branches of the bluegrass tree. There's a full schedule of bluegrass workshops, children's activities, a vendor midway and don't forget the Pennsylvania Heritage Songwriting Contest! The festival is both 4-wheeler and pet friendly.
Music critic Jerry Paul (former editor of Acoustica) described lead singer James Reams: "James is such an inspiration to watch. He truly feels his music, and sings from her very soul. If James is ever within your area, he is a 'must see' bluegrass icon." James Reams & The Barnstormers provide a contemporary take on traditional bluegrass; blending it with innovation and vitality to create their own branch on the "roots" tree. In a review of an early album by James Reams, fRoots (an international magazine that specializes in world music) declared, "Traditional music kept alive by a stylish performer… Powerful, emotional music that needs to be heard."
Raised in eastern Kentucky but now living in Phoenix, James Reams puts a layer of desert grit over a solid base of traditional bluegrass music. His band treads the terrain where bluegrass, old-time, classic country and rockabilly meet in the night to swap stories. These are the sounds of the hills and hollers combined with the sounds of factories, railroad yards and honky tonks.
The band celebrated 20 years of playing bluegrass music in 2013 with a coast-to-coast tour from New York to California. The much anticipated DVD documentary Making History with Pioneers of Bluegrass Music hosted by James Reams was released in July of 2013. James is currently accepting bookings to screen the film with Q&A afterwards. Their latest CD, One Foot in the Honky Tonk, made two Top Ten CDs of 2011 lists and had a single that charted nationally.
For further information about James Reams & The Barnstormers visit their website at www.jamesreams.com [1] or http://cdbaby.com/Artist/jamesReams [2]. Music videos are available on http://www.youtube.com/user/mrjamesreams [3].