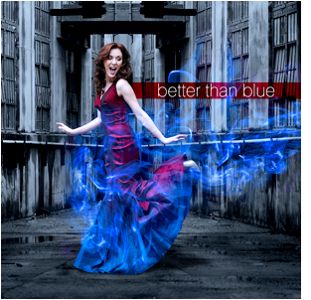 Ever since the Trinity River Band hit the scene, I've been captured by their sound. Each release and performance better and better. By the time their 2013 release, Today Don't Look Like Rain, hit the streets, I was hooked. Then, came their newest project, Better Than Blue and I'm in awe at the artistry of this Harris family band. Better Than Blue may actually be better than many of the other recent releases.
The twelve track album highlights the band's versatility. The IBMA Momentum Award Vocalist of the Year Nominee Sarah Harris (Mandolin) is lead vocalist on most tracks and her emotion filled vocals carry the album beautifully. From the opening title track, "Better than Blue" through the closing track, "Mystery Train", her vocals are captivating.
The musicianship, vocals, song selection and presentation are all excellent. The album is nicely balanced with songs that cover the band's bluegrass-acoustic country-Americana style. I have listened to this album at least a dozen times already and just can't get enough. That's saying something as many family bands can catch my ear but, it has been awhile since I was totally captured.
I like the broad range of material from "Jacob's Ladder" to "I'll Love You Just The Same" to "Pure Poison" to the old standard "Daddy's Hands." It is this breadth that keeps the album from getting tiring. Each song is fresh and tells a different story. From the cover to every track on this album, there is something special. There isn't anything with the entire project that even comes close to being disagreeable. You can listen to this album all day long
Not only does the Trinity River Band surprise you with the content, The album cover is undeniably the most creative in recent history for a bluegrass type album. With a laser/flame brush effect added to the red-blue theme in front of a drab gray building, the energy of Sarah is an indication of what's to come. There's a lot of energy in this release. The band has certainly entered award quality material with this latest project.
Sarah Harris is definitely the centerpiece of the band and plays Mandolin. Her brother Josh play Banjo, Dobro and sings Harmony Vocals. Brianna, her sister, performs the Fiddle and also sings Harmony. Their father, Mike plays Guitar and shares Lead and Harmony Vocals and mother Lisa plays Bass and rounds out the Harmony Vocals. Put them all together and you have a winning combination family band. Better than Blue is a keeper!