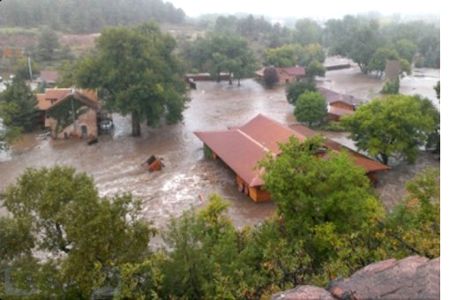 After the Lyons, Colorado floods that did significant damage to all of the area, including the entire Rocky Grass performance area at Planet Bluegrass' home grounds, CAN'd Aid Foundation has been gracious in helping fund the restoration to enable the many activities to continue through this summer season.
While much of the area along the St. Vrain River remains a mess with uprooted trees, and washed out areas, much of the debris has been cleaned up, roads repaired, bridges restored and the area is starting to recover. Federal aid helped along with millions of dollars from Great Outdoors Colorado in the restoration. CAN'd Aid matched additional funding from Great Outdoors Colorado. RockyGrass is one event that draws thousands to the area and helps to financially support the thriving little town.
Thanks to the dedication of the Planet Bluegrass staff, many volunteers and the financial assistance of these foundations, RockyGrass will once again fill the small community with the sounds of bluegrass music. This year's RockyGrass Festival scheduled for July 25-27 again features the best lineup in 42 years. Tickets sold out early as big-name artists such as Bela Fleck and Alison Krauss signed on to help Lyons.
Though the flood destroyed much of Lyons' infrastructure, many in Lyons are now able to return to their homes and reopen their businesses -- thanks to the tireless efforts of town officials, work crews, volunteers, and many local and national teams (including FEMA and the National Guard). Here on Planet Bluegrass we officially reopened our offices last Monday morning. With all of us gathered together in the first repaired building (dubbed the Festivarian Embassy), we're ready to reconnect with Festivarian Nation via your phone calls and emails, as Planet Bluegrass 2.0 continues to take shape outside our door.
Amidst the flood rebuilding, we've spent much of the last two months talking with musicians about our 2014 season. We've begun to post the instructors for the RockyGrass Academy (July 20-24) including Bryan Sutton, Noam Pikelny, Matt Flinner, Chris Eldridge, Sally Van Meter, and many others. Keep checking back as we'll continue to post more instructors as soon as they confirm (and don't forget to register via the online lottery by 11:59pm tonight!). Look for us to begin announcing initial festival lineups in the next few weeks...