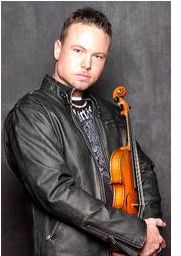 Fiddler Jim VanCleve has announced that he will be leaving Mountain Heart, a group he helpd establish almost 16 years ago. Jim has certainly made his mark with this outstanding group of bluegrass music artists and he and the group are seperating on good terms. Jim will keep his fans posted through his Facebook page [1]. Mountain Heart has not announced any possible replacements and Jim will continue to fulfil his existing committments as best he can.
Jim VanCleve released this announcement regarding his decision...
Today, after nearly 16 years of touring and recording, I am publicly announcing my decision to leave Mountain Heart. We have discussed this together, and I leave on what I think must be considered the absolute best of terms. These fine gentlemen are much more than co-workers, they are family. While it's been a very difficult decision to reach, I feel that the timing is right and that God has been tugging me to explore a number of different opportunities that have presented themselves over the last few months, as well as be open to new ones I'm not yet aware of.
As some may already know, I've been very blessed to become deeply engaged in the Nashville studio scene: from producing full projects in a variety of genres, to A & R, session work, mixing/mastering/editing, and a myriad of other tasks. Between all this, and my intent to freelance with a number of various artists, teaching online and at various camps, my goal is to be as busy as ever, which is just the way I like it. So, I am looking forward to collaborating with many new faces in a variety of situations moving forward!
My time with the Mountain Heart boys has been an amazing adventure. It's no small thing to be able to create and perform your own music with literally some of the very best musicians in the world, who – as many of you know – are also some of the finest people you'll meet as well. From the very first iteration of the band, almost 16 years ago, to today's band, the hallmark we created with Mountain Heart has been a positively-charged, energetic, and highly personal approach to American Music. We poured ourselves into what we created. We took a lot of chances, broke a few rules, even took some lumps. But, ultimately we excelled and succeeded in many things we weren't sure could be done. Mountain Heart has afforded me the opportunity to grow as a musician, as a producer, as a writer, as an arranger, and most importantly, as a teammate and person. I am proud of what we've accomplished, and I am heartily wishing these boys the VERY best as they move forward, and continue to set new musical standards for us all.
I feel that I am leaving Mountain Heart as strong as ever, and that they are on the precipice of entering yet another great season. At present we have agreed that, though I will begin appearing with a variety of musical ensembles immediately, I will also be playing the remainder of the calendar dates Mountain Heart has scheduled for 2014 as well. It is my hope to be able to visit with many of our long time friends and fans during this time – and I'll admit – to "throw down" with with these particular guys a few more times!
I look forward to seeing everyone, either with Mountain Heart over the next few months, or wherever our paths may cross from here forward!
Mountain Heart's Barry Abernathy represented the group and said,
"Jim VanCleve has been a wonderful friend and band mate for the last 16 years. I wish him nothing but the best in all of his endeavors. I feel privileged to have had Jimmy as a part of the band, as well as a huge part of my life over what has been the 'Prime' of our careers. I feel that I am a better person, and musician, having created music the last 15 years with this man. I would like to take this opportunity to thank him for all the music and memories which I will cherish forever (or at least as long as I am in my right mind).
Good Luck Jimmy, and don't forget to set your clock!"
Mountain Heart's musical virtuosity, unmatched energy, and keen sense of entertainment dynamics have helped them to forge a highly unique sound, and stage show, which appeals to an incredibly wide variety of musical tastes. From large outdoor folk music and bluegrass festivals, to sold-out arena shows opening for Southern Rock icons, Lynyrd Skynyrd, to co-headlining concerts with the acoustic guitar legend, Tony Rice, Mountain Heart always makes an undeniable connection to an audience, leaving them on their feet. In short, this rare comibination of abilities makes Mountain Heart one of the most versatile acts ever assembled.
As the group leading the charge in taking acoustic music to the masses, Mountain Heart deftly combines elements of southern rock, jam band, country, delta blues, jazz, funk and traditional bluegrass into a high-energy sound that is at once unique, fresh, accessible, and unmistakeable.
Fiddler Jim VanCleve has already achieved more than many musicians do in a lifetime, and with the release of his solo debut, No Apologies, the dynamic youngster has taken a bold step forward. Producing, arranging, performing, and sharing in the writing credits for more than half of the CD's eleven selections, Jim has created a collection of unusual depth and breadth that can only enhance his reputation as one of the leading musicians of his generation.
No Apologies was one of the most critically acclaimed albums of the year, garnering a 2006 Grammy Nomination, an IBMA Instrumental Album of the Year Nomination for 2007, and taking "Album of the Year" honors in the Folk Music category of the Indie Acoustic Awards. Following the success of his album, Jim was nominated as IBMA Fiddle Player of the Year.
As one of the most in-demand session musicians in Nashville, Jim has played on countless recordings. He played a prominent role as fiddler on the 2004 Country Album of the Year Livin', Lovin', Losin': The Songs Of The Louvin Brothers, winning him his first Grammy. He also recorded fiddle for a smash-hit single drawn from American Idol winner, Carrie Underwood's Some Hearts (2005)-his first participation in a multi-platinum seller.
As one of the original members of Mountain Heart, Jim has become well-known for the intense energy, charisma, and dazzling musicianship he brings to the stage. We all wish both Jim and Mountain Heart great future successes.