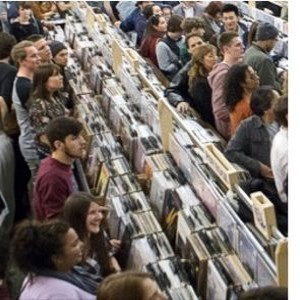 April 19th is Record Store Day!! As a vinyl lover who appreciates the LP format and the newer "heavy vinyl" format, this day has special meaning for us. This year we find some gems in the release roster that includes The Everly Brothers Songs Our Daddy Taught Us, some Greatful Dead, a bit of Gram Parsons, and more. If its something more bluegrass related, there are vinyl releases for our favorite genre too including the newly released A Dotted Line by Nickel Creek, Keep On Walkin' by the Grascals, Will The Circle Be Unbroken in 180 gram vinyl and more.
So, lets boogie down the boulevard to better ballads, truck down the trail to true tunes, spin the platter, cut the chatter, with another goldy oldy moldy blast from the past on your turntable! Vinyl is alive and well and once again, growing in popularity.
Annual sales of vinyl LPs have crossed the half a million mark for the first time in more than a decade, revealed a BPI analysis of Official Charts Company data released today. Releases from Daft Punk, Arctic Monkeys and David Bowie have helped push the popularity of the format to renewed heights this year. Almost 550,000 LPs have been snapped up by music fans so far in 2013, already giving vinyl its most successful year since 2003.
Last year we reported Vinyl Revival Continues As LP Sales Reach Highest Level In More Than A Decade [1]. The year-to-date sales figure reflects year-on-year growth of over 100%, doubling vinyl's market share in the last 12 months. LPs now account for 0.8% of all albums sold in the UK – as recently as 2007, its share was just 0.1%. Record Store Day, the one-day celebration of independent record shops which took place in April, generated £2m worth of vinyl sales itself alone. With around 15,000 LPs currently being bought every week, BPI is estimating that more than 700,000 units could be sold by the end of the year, the highest total sales since 2001, potentially generating £12 million at retail.
Bluegrass artists continue to produce albums in the LP vinyl format. Doc Watson and Alison Krauss have been featured in the new heavy 180 gram vinyl, a wonderful format. Other artists continue to release a limited number in vinyl. Recently, Pinecastle announced they will release The Osborne Brothers Nashville in the vinyl format on June 10th. A bit after Record Store Day but, yet another vinyl release!
Many artists are helping to push vinyl sales by offering digital downloads for free if you purchase the vinyl edition of their works. With the resurgence in vinyl popularity, this is a great way to have your cake and eat it too! You get the vinyl for your collection and the portable digital format too and all for just the price of the album. Aren't LPs great?!?!?
Some of the classics are making encore releases. Sugar Hill reissued epic Skaggs and Rice, Townes Van Zandt, Black Prairie on vinyl for Record Store Day 2012. Sarah Jarosz featured her EP in vinyl last year. You may still find fresh copies of these around but, don't just limit yourself to these. Check and see if your favorite bluegrass artist has any vinyl. Many do -- you just have to ask.
Buying vinyl is only half the story. The other half is in helping the brick & mortar Mom & Pop record stores to stay open and offering to bring more vinyl to the market. With many younger people getting interested in the "old" format, more albums may be offered. While we will probably never see the supermarket sized stores like Peaches, Record Barn, or Sam Goody's, the fact that interest in vinyl is increasing is a good thing.
Lists of this year's releases and previous year's releases are on the Record Store Day website [2]. Hopefully in the next few years, we will see greater participation by bluegrass artists. Supporting your local record store on Saturday, April 19th is a great way to get started. Ask your store if they have bluegrass!old