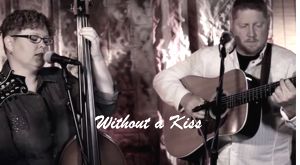 Cybergrass presented the exclusive premiere of the
music video "Without A Kiss"
and now, Nu-Blu has just released this third and final video in the 3-part series! This video is for their song "Without A Kiss" featured on their album,
TEN
. The epic bluegrass ballad features Earth-shattering lyrics and vocals that will leave fans hooked!
Nu-Blu is currently on tour in support of their latest album, TEN. A decade later, they are continuing to leave their mark in bluegrass music! Moving forward into the future will mark the end of one chapter, and the beginning of another. With uncertainty and miles of road ahead, Nu-Blu will continue to make the kind of music that will influence and inspire fans across the world!
One of the highlights of the album is the heartbreaking "Without A Kiss"
- Billboard.com
Nu-Blu is Daniel and Carolyn Routh, along with Austin Koerner and Levi Austin. Together, these artistic musicians comprise and exciting new sound in bluegrass music. They are a dedicated team who works together to reach their common goal of presenting great music during every show! They work hard to develop a sound that gives the listener a unique and diverse experience, centered around their contemporary bluegrass style!
Nu-Blu, based in Siler City in central North Carolina, brings its lively and entertaining version of Americana-bluegrass music to audiences across the nation year-round. Their sound acknowledges the traditional institutions that have shaped it, yet is innovative and daring enough to bring a fresh sparkle to contemporary acoustic music that lands them squarely in the forefront of bands blazing the trail in Americana entertainment. Influences range from the sounds of original bluegrass pioneers like Earl Scruggs, Jimmy Martin and Lester Flatt to rock bands of the 1980's, and modern contemporary sounds such as Alison Krauss and Union Station. Nu-Blu's full, welcoming sounds provide a home for listeners and encourage them to explore new sounds, create personal roots, and imagine music free from labels.
Look for their album, TEN to hear more music like in the video above. It's a great addition to any music library. Catch them at a venue near you. Their 2014 tour is on their web site at http://nu-blu.com/ [2]