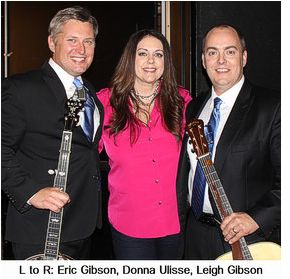 Singer songwriter Donna Ulisse can be seen this weekend on RFD-TV's Country Family Reunion-Simply Bluegrass by tuning in on Friday, March 28 at 8:00 p.m. Eastern Time and Saturday morning March 29 at 6:00 a.m. Donna was honored to have been a part of the special which was taped in the fall of 2013 and was truly an all-star lineup of guests.
The full day of taping included performances by Ricky Skaggs, The Whites, Rhonda Vincent, Del McCoury, Doyle Lawson, The Gibson Brothers, Carl Jackson, Larry Cordle, Bobby Osborne, Mac Wiseman, Dailey & Vincent and many more but for Ulisse, the best part of the day was listening to all of the guests share their memories of their lives playing bluegrass music and she believes viewers will be as captivated as she was listening to the stories told. Ricky Skaggs and Grand Ole Opry star & Country Music Hall of Fame Inductee Bill Anderson shared hosting duties.
Ulisse performed the song "One Way Rider" written by Rodney Crowell which is on her current release, Showin' My Roots.
The full set of shows is also available on DVD. With over 6 hours of awe-inspiring content guaranteed to delight music fans everywhere, this 5-disc series is now available online at cfrvideos.com, or by calling 800-820-5405.