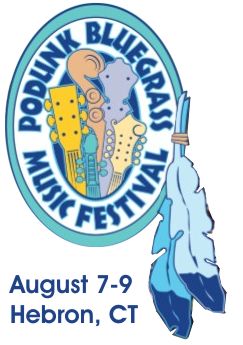 Connecticut's Podunk Bluegrass Music Festival will celebrate its 18th year with one of its most outstanding line-ups to date. The festival will run from Thursday, August 7th through Saturday, August 9th. The initial lineup is outstanding and more acts are being booked.
This year's artists include Adkins & Loudermilk, The Bankesters, Blue Highway, Claire Lynch Band, Donna Ulisse & Poor Mountain Boys, Jeanette & Johnny Williams, Jim Gaudet and The Railroad Boys, Larry Stephenson Band, Nu Blu, The Steeldrivers, Three Tall Pines, and Wayne Taylor & Appaloosa. Look for more names as the festival gets closer.
This annual bluegrass festival is held the second full weekend of August in Hebron, CT. It features local, regional and national bluegrass, bringing together the finest in bluegrass music each year. As always, there will be plenty to do for the whole family this year.
The annual festival features a band and songwriting competitions, on-site camping with plenty of camp jamming, traditional crafts, storytelling, jam sessions, an open stage band time and plenty of good food is available. There is also a children's area for them to burn off some energy too.
Podunk 2014 moving to their long term home in Hebron, CT! visit http://podunkbl.ipower.com/#details [1] for videos on camping, the stage area and more.