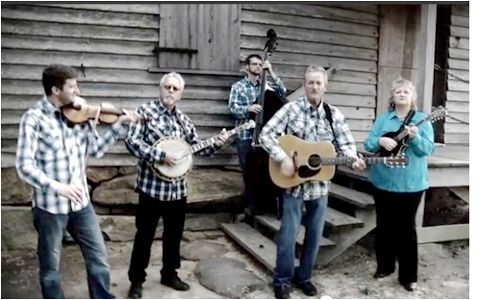 Lorraine Jordan & Carolina Road have just released a new video for their #1 hit, "That's Kentucky." The song was penned by Tom T. Hall, Dixie Hall, and Troy Engle, and spent 5-weeks consecutively and two months at #1 on the Bluegrass Today charts! The song comes off of their latest self-titled album released by Pinecastle Records. The song is traditional bluegrass, but has a very fresh approach!
"That's Kentucky" will be eligible for consideration at the IBMA awards, which take place later this year! The IBMA Awards will be hosted by Lorraine's hometown of Raleigh, NC! Please consider "That's Kentucky" on the ballot for IBMA Song of the Year.
Affectionately known as the "Lady of Tradition" in the bluegrass community, Lorraine Jordan grew up around bluegrass music on the coast of North Carolina. She now resides in Garner, just outside of Raleigh, North Carolina. She has performed bluegrass music for over twenty years and formed Carolina Road in 1998. She continues to be the driving force behind Carolina Road's popularity and longevity as a consummate performer, songwriter, emcee and show organizer. Lorraine plays a "Monroe-style mandolin" and is known for her hard driving mandolin chop. She has been a finalist in the IBMA Songwriting Showcase and was the 1st runner-up in the prestigious Chris Austin Songwriting Contest at Merlefest.
"After 20 years of being a musician, 6 years as a side person in other bands and 12 years on the road full-time as band leader of Carolina Road, I am confident that I got it right this time!"
- Lorraine Jordan
Bluegrass crowd-pleasers, Carolina Road recently released their self-titled cd, Lorraine Jordan & Carolina Road, their highly anticipated album with Pinecastle Records. Their previous release, Back To My Roots, achieved commercial and critical success, charting on Bluegrass Music Profiles TOP 30 SINGLES, and TOP 10 ALBUM Chart and reaching #1 on the Bluegrass Unlimited Charts.
The band's distinct sound and old time flair can be attributed to the bluegrass-rich area of North Carolina from which they hail and borrow their name. As the founding member and band leader for Carolina Road, Lorraine Jordan's showmanship and chemistry with the audience makes the group one of the most popular bands among bluegrass fans today.
Lorraine, who has garnered two IBMA Awards, has fronted Carolina Road for over a decade and has eleven national recordings to her credit. The band has earned a reputation as one of the hardest working bands in bluegrass. Carolina Road plays worldwide and headlines two National Blue Grass festivals, Christmas in the Smokies and Cherokee. They have hosted the Canadian Bluegrass Awards, toured Europe and played twelve Blue Grass cruises.
Carolina Road's performance is a traditional sound with a fresh approach which includes invigorating instrumentals, smooth blending vocals, and all the energy that you can stand.