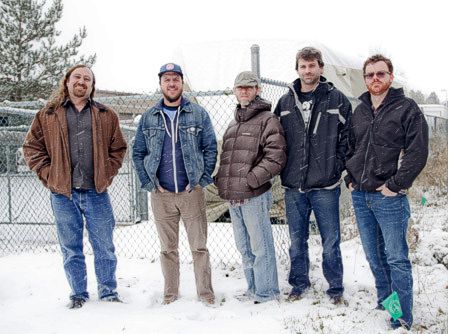 In case you all hadn't heard the news, Great American Taxi and Vince Herman have decided it is in the best interest for everyone to part ways. Vince recently moved to Oregon to settle down and spend more time on his farm, and as maybe most of you know has been touring again full time with Leftover Salmon.
To make a long story short, we wanted to keep playing. We took our time over the last four or five months and decided to offer the job to Taylor Sims. We are happy to report he accepted the offer. Some will remember Sims from his days fronting Colorado favorites Spring Creek Bluegrass Band from Lyons, CO. Sims, a Texas native, is an accomplished songwriter and multi-instrumantalist, who has lived in Colorado for the last eight years. Chad, Jim, Chris and Brian will continue down the road as they have for the last 5+ years. We'll certainy miss our brother Vince, but we're sure he'll show up and ride along some place down the road.
We're excited to give you a sneak peek into a couple of the new songs and sounds the band has been working on in the studio. If you are in the Colorado area or in Las Vegas these next couple of weeks, join us and take a ride in Taxi 2.0. We're playing Fort Collins, Denver, Steamboat Springs, Breckenridge, Avon, Boulder and Vegas baby. The band just turned 9 years old on March 10th!
Visit the band's website and sample their music at http://www.reverbnation.com/greatamericantaxiIn [1] case you all hadn