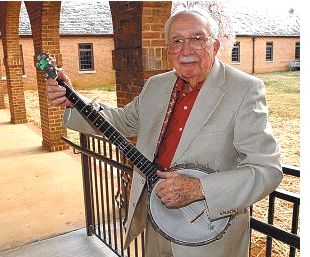 Bristol, TN/VA -- The Appalachian Cultural Music Association's Mountain Music Museum invites the public and the media to take part in the unveiling of the "Papa Joe Smiddy Exhibit" at the museum located at 626 State Street in Bristol, TN-VA. The unveiling will take place at 3:00 pm on Monday, March 17th and ninety-three year old Papa Joe Smiddy will be at the unveiling ceremony.
"We are honored to have several nice artifacts donated to our museum by Papa Joe", says Suzy Gobble who has volunteered to put the exhibit in place. "This wonderful exhibit will be another chapter in the story our museum tells about the music from our region. We are very pleased to have this exhibit as part of the ACMA's collection for people to see when they visit the Mountain Music Museum".
Smiddy, chancellor emeritus at the University of Virginia at Wise is credited for building the four-year liberal-arts institution to what it is today. He has been retired from the University since 1985. Smiddy is also a veteran of World War II serving our country in the South Pacific. Another of his big contributions to mankind has been his music. He is a fantastic clawhammer banjo picker and his passion for his music shows. He has performed over the years on countless stages even sharing the limelight with Doc Boggs, Randall Hilton, Jeanette Carter, Ricky Skaggs and many others. Pappa Joe Smiddy has performed many years with his band the Reedy Creek Bluegrass Band which includes his son Dr. Joe Smiddy.
The ACMA honored Pappa Joe Smiddy a few years ago at their annual Leon Kiser Memorial-Tribute Concert which raises funds for the Benny Sims Scholarship and the ACMA's Leon Kiser Memorial Scholarship at East Tennessee State University for their Bluegrass Old Time and Country Music Program.
Live music will be provided at the press conference on Monday as well as words from Papa Joe Smiddy himself. The ACMA is a non-profit, all volunteer organization promoting and preserving the musical heritage of the Southern Appalachian Region. For information visit www.mountainmusicmuseum.org [1]