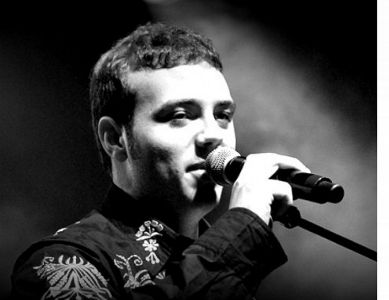 Hiltons, VA -- Friday, March 14th, 2014, at 7:30 p.m. the Carter Family Fold in Hiltons, Virginia, will present the first of a special concert series of down-home, mountain music to be held the second Friday of each month from March through October, 2014. Kicking off this brand new concert series is a special young man who grew up performing at the Fold and has been part of the Fold and Carter/Cash families from the time he started performing as a child – Trey Hensley. Backing Trey will his bluegrass band Drivin' Force. Admission to the concert is $10 for adults, $1 for children 6 to 11, under age 6 free.
Trey Hensley, despite his young age, has already forged his own style. What started twelve years ago as a kid singing traditional bluegrass has become the mature sound of a 22-year old country performer and vocalist who has already found his voice. While you'll hear some of his idols and influences around the edges, more than anything, you'll hear Trey Hensley.
With a guitar in his hands, his talent expands beyond his young age. This guitar aficionado will blow your mind. His own style of picking – whether on his Telecaster or acoustic – bears the influence of some of his guitar heroes. You'll hear traces of James Burton, Marty Stuart, Buck Owens, Ricky Skaggs, Doc Watson, and Tony Rice.
Friends with Johnny Cash and Earl Scruggs, he's picked with Tom T. Hall, the Oak Ridge Boys, Steve Wariner, Charlie Daniels, Ricky Skaggs, and many others. He first stepped into the Grand Ole Opry's spotlight in 2002, performing on the hallowed Ryman stage at the age of only eleven years old. Before that, he appeared onstage at the Carter Fold – the birthplace of country music.
Hensley's first country project, Looking at my Future, finds him with guitars firmly in hand and surrounded by some of the finest studio musicians in Nashville. Covering material done by Johnny Rodriguez, Elvis Presley, and Jerry Reed - his easy vocal styling and hot licks on the release are amazing. With his second country CD, It
is What it Is, the Jonesborough, Tennessee, native is heading out playing his own brand of traditional honky-tonk music. Trey's new CD is a combination of radio-friendly and contemporary songs as well as songs with the classic sound of some of his heroes. It features songs done by Elton John, Conway Twitty, Jimmy Dickens, and many other music industry greats as well as special guests who contributed their time and talent to the release.
Several years ago, Trey hit the road with his four-piece band for a tour that carried him from Philadelphia to Los Angeles, Nebraska to North Carolina, and beyond. During the tour, his group opened for Steve Wariner, Randy Owen, and Marty Stuart. While he continues to travel throughout the U.S. and Canada, Trey is always mindful of the roots of the music he loves. He never lets country fans forget where it all began.
Trey's talent and stage presence are indicative of a performer far beyond his age. His tremendous talent and his down home humility impress everyone he meets. Marty Stuart calls him a "bona fide hillbilly rock star." You won't hear better guitar picking anywhere, and his vocals are every bit as spell-binding as his playing. If you aren't a fan of Trey's already, you will be when you hear him.
For a night of some of the best bluegrass and traditional country music you can imagine, don't miss Trey Hensley and Drivin' Force at the Carter Family Fold! Trey grew up playing on the Carter Fold stage, and it feels like part of our family is coming home when he performs there. Trey truly is family, and the Fold is honored and proud to feature him as the first performer of our new concert series. For more information on Trey, go to http://treyhensley.com/ [1]
Carter Family Memorial Music Center, Incorporated, is a nonprofit, rural arts organization established to preserve traditional, acoustic, mountain music. For further information on the center, go to http://www.carterfamilyfold.org [2]. Shows from the Carter Family Fold can be accessed on the internet at http://www.carterfoldshow.com [3].
Carter Music Center is part of the Crooked Road: Virginia's Heritage Music Trail. You can visit the Crooked Road Music Trail site at http://thecrookedroad.org [4]. Partial funding for programs at the center is provided by the Virginia Commission for the Arts and the National Endowment for the Arts. For recorded information on shows coming up at the Fold, call 276-386-6054. The Fold is on Facebook – page Carter Fold – and Twitter – Twitter @carterfoldinfo.