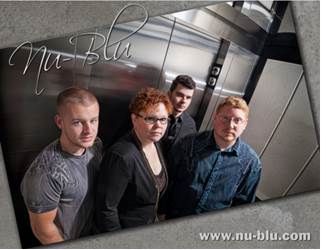 Bluegrass group, Nu-Blu just released an acoustic video for their song, "Trains I Didn't Take." Serving as the first of a 3 part series of video releases, "Trains" features heavy banjo, and an insanely catchy chorus. The song is featured on Nu-Blu's latest album
TEN
. You can watch the video below!
After celebrating 10 years of Nu-Blu, the band is going into the next decade with a great deal of momentum. While the future is sure to be filled with twists and turns, Nu-Blu is bringing their contemporary style to newer audiences around the world! It's uncertain where the road will lead, but they are ready for the ride!
Daniel and Carolyn Routh, along with Austin Koerner and Levi Austin make up Nu-Blu – the sensational bluegrass band. They are a dedicated team who works together to reach their common goal of presenting great music during every show! They work hard to develop a sound that gives the listener a unique and diverse experience, centered around their contemporary bluegrass style!
"'Trains I Didn't Take' reminds me of the last 10 years, playing with Nu-Blu, and all the circumstances we've faced, and the choices that we've made, and the decisions that have come up and led us to where we are now."
  - Carolyn Routh, reflecting on a decade of Nu-Blu.
You can become a part of the Nu-Blu revolution!
By sharing this video to your website, facebook, twitter, Instagram, or other social media sites, you too can be included in the 3 part series of video releases! This is only the beginning! Along with "Trains I Didn't Take," there will be world premieres for their tracks, "It's a Good Day to be With You" and "Without a Kiss."
Nu-Blu online at: