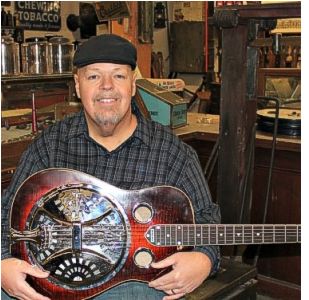 After a fight with Hodgkin's Lymphoma in 2011, a healthy Phil Leadbetter is back on the road performing with Dale Ann Bradley and actively working on the follow up to the IBMA Instrumental Recording of the Year Slide Effects. The next Pinecastle album, titled The Next Move, is shaping up to be an exciting collaboration with Phil's friends including: Jerry Douglas, Rob Ickes, Mike Bub, Shawn Camp, Steve Wariner, Joe Diffie, Marty Raybon, Sierra Hull, Sam Bush, Kenny Smith, and many more.
After a 2 year battle with stage 4 Hodgkin's Lymphoma, Phil is now a survivor, and is 100% cancer free. This CD is an event with friends and musicians that he hoped to record with if he survived this illness. This album is a reminder to never give up and always stay positive. Cancer can take alot from you, but it can't kill your dreams.
The first single from The Next Move, titled "Ramblin' Rolling Stone," (featuring Sam Bush and John Cowan) is available now!
Add Single to Cart - $0.99 [1].
Phil, affectionately known as "Uncle Phil" by his fans, is a full-time musician since 1992. He moved to Nashville, TN for four years and returned home in 1990. Prior to becoming a full time music artist, he worked as a head injury nurse for 10 years.
Phil has worked 1988 with Grandpa Jones Band, 1989 with CBS Recording Artist Vern Gosdin, from 1990-2001 he performed with the legendary J.D Crowe and the New South, and recorded 2 projects with J.D Crowe. The recording Flashback receiving a Grammy Nomination in 1995.
Phil left the band in 2001 to help form the band Wildfire, and recorded 3 projects for Pinecastle Records while there.
He then recorded a solo CD for Pinecastle in 2005 called Slide Effects and teamed up with singer Marty Raybon who was the lead singer for the country band "Shenandoah". He sang "California Cottonfields" on the project which was released as a single. The single went to #1 for 2 straight months on the National Bluegrass Charts. The CD won "Instrumental Album Of The year", and Phil won "Dobro Player of The Year" that year at the 2005 IBMA Awards at The Ryman Auditorium in Nashville, TN.
After this project, he became a founding member of the band Grasstowne in December 2006. Their first CD Where Roads Divide went to #1 for 3 straight months on the National Bluegrass Chart, and the album won "Album Of The Year" at the SPBGMA Awards in Nashville, TN in 2008. Phil also picked up "Dobro Player Of The Year" that same year, and also again in 2009. Current member of The Whites.
Now after his 2 years with Hodgkin's, he's back in form and this will be The Next Move for him. Always a hit, Phil's next project is being anxiously awaited by fans everywhere. We're sure the wait will be worth it -- it always is with Uncle Phil's work.