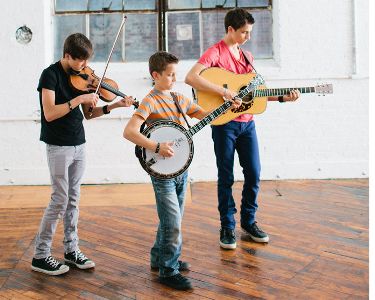 The amazing young group, Sleepy Man Banjo Boys, have just announced a new video and music titled "Run." The video can be viewed below. The group gained popularity with their viral videos on YouTube and then later as they performed on Late Show with David Letterman, Huckabee, and The Today Show, played Carnegie Hall as well as festivals large and small across America. Now, their new song, shows a fresh new side of the 'Boys' as they take their career into new territory.
The siblings have recently added additional talent to their lineup. Cory Piatt joined the group as their permanent mandolin player and Blake Pitney on Bass which was also a welcome addition. The addition of the additional instruments completes the "bluegrass" style and rounds out the depth of the band's overall sound.
Sleepy Man Banjo Boys, brothers Tommy, Robbie, and Jonny, have quickly made a name for themselves as one of the quickest rising acts in Roots music. That is no small accomplishment when you take into consideration the trio hails from Lebanon Township, New Jersey – not exactly a hotbed for instruments like banjos and fiddles. "New Jersey is not what you would call a Bluegrass state. That's one of the interesting parts about our story," said Tommy. "There are definitely Bluegrass fans here, but maybe we're making a few new ones, which is kind of cool."
When asked why the brothers became so enamored with the style of the music, Tommy says "Probably because it's so unique. There's really not any other kind of music that is similar to it. We also like the pureness of the acoustic sound – there's no way to hide behind effects or distortion pedals so you have to be proficient on your instrument to play this music well."
The Mizzone brothers were influenced by the masters, such as J.D. Crowe, Ralph Stanley, and Tony Rice. They also – just like countless others before them – became influenced by the revolutionary five-string banjo playing of Earl Scruggs. However, they weren't listening to Grandpa's 78 RPM collection. They picked up the music of Scruggs the way that many others their age are discovering the classics. "We discovered Earl Scruggs through YouTube and fell in love with the music," said Tommy.