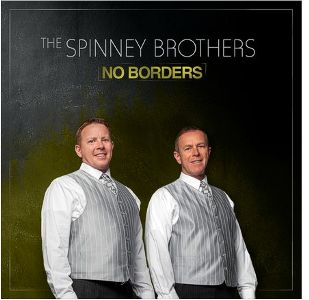 Willis, VA -- 2013 IBMA Emerging Artists of the Year nominee, The Spinney Brothers, will not only have the #1 Album again this month on the Bluegrass Unlimited charts with their newly released project No Borders, but they will also have the #1 song on the chart with "Grandpa's Way of Life," from their album on Mountain Fever Records.
Their song, "I Want My Dog Back," is on also on a steady climb up the charts and as a congratulations to the Spinneys for their current successes, Mountain Fever Records head, Mark Hodges, felt he wanted to show the labels appreciation by purchasing them a brand new automobile!
The Spinney Brothers recently received their brand new remote control vehicle that was delivered to them in Nova Scotia, celebrating the two records they've done with Mountain Fever and the fact that both records also had a second song release go to #1 as well.

The car is so new it's still on the cardboard it was hanging on in the store.
"In all seriousness, we're so proud of The Spinneys and their accomplishments and it is an honor to be a part of their success. Here's to many, many more!" says Mountain Fever president, Mark Hodges.
No Borders marked the band's second release on the Virginia based label and was produced by well-known bluegrass musician Ron Stewart, who's recognizable fiddle playing can also be heard on several songs throughout the record. It contains a freshness towards and an excitment for traditional bluegrass music that is an identifying hallmark for their music. The album, in general, speaks right to the heart of their appreciation of those who came before them.
Comprised of Allan Spinney, Rick Spinney, Gary Dalrymple, and brand new member Terry Poirier on bass, The Spinney Brothers are originally from the Annapolis Valley of Nova Scotia and debuted in 1992, showcasing a tight brother duet vocal style that was immediately recognized for its energetic and distinctive sound. The cornerstone of their musical identity is their thorough understanding of traditional, southern-flavored bluegrass music.
To hear tracks from the album, visit http://airplaydirect.com/SpinneyNoBorders [1]