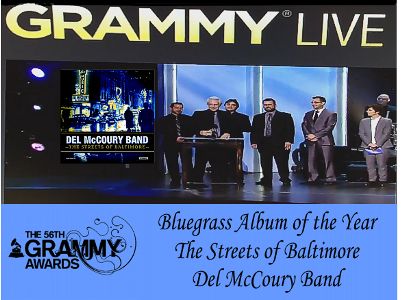 Del McCoury was already hard at work in Baltimore's lively bluegrass music scene when the very first Grammy awards were presented more than 50 years ago, but you couldn't tell it from the way he bounded up the steps to thank the Grammy voters for honoring his Del McCoury Band's The Streets of Baltimore at Sunday's glittering awards show. The trophy marked the group's second 21st century Grammy for Best Bluegrass Album (as well as Del's 10th nomination total), and for the silver-haired McCoury, who turns 75 in just a few days, it's an especially sweet one.
"That's really where I got my start, you know," he says of the gritty, hard-working harbor town that provides the setting for the title track, an early '60s hit for country legend Bobby Bare around the time that McCoury left his nearby Pennsylvania home for a stint with the father of bluegrass, Bill Monroe. "There were some great bands, and some great characters, that were working in the clubs those days, and I learned a lot about how to play this music from playing with them. Back then," he adds, with his characteristic chuckle, "You could get anything you needed down there—and a lot of things you didn't need, too!"
Yet while The Streets Of Baltimore was inspired by the milieu in which McCoury first honed the craft that would eventually lead him to worldwide acclaim as bluegrass music's most genial—and most admired—ambassador, it's hardly an exercise in nostalgia. To be sure, there are some songs like the title track that cast a backward glance, but the project is filled, too, with new contributions from masters like Larry Cordle, Shawn Camp and Country Music Hall of Famer Bill Anderson. It's all part of what helps keep Del and his band—sons Ronnie and Rob McCoury, fiddler Jason Carter and bass man Alan Bartram—not just among the most respected of bluegrass artists, but also among the music's coolest.
"It really makes me feel good to see all the younger talent coming up in bluegrass," Del notes. "You know, it was kind of an honor just to be nominated with all these great musicians; a lot of them weren't even born when I was working back in Baltimore. It really keeps me on my toes to be out there with them. I think the music's in as good a shape as it's ever been, and I'm just thrilled to still be right in the middle of it all."
Indeed, the McCoury group converged on the Grammy ceremony from several directions, as the younger members flew in from Georgia, where they've been touring with jamgrass favorites, the Yonder Mountain String Band. And sure enough, they're heading back out on the road just as soon as they've caught their collective breath. "I am truly grateful for this Grammy award," Del says with a laugh, "but you know, we've still got some shows to do!"
The Streets of Baltimore is available to purchase here: http://delmccouryband.com/store/ [1]