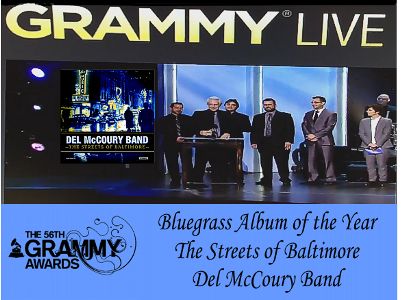 Best Bluegrass Album Gramophone Trophy goes to the Del McCoury Band for their album,
The Streets Of Baltimore
. Other nominees were The Boxcar's
It's Just a Road
, Daily & Vincent's
Brothers of the Highway
, Della Mae's
This World Oft Can Be
and
Three Chords and the Truth
by James King. All are winners in the eyes of bluegrass fans however, a big congratulations to the legendary Del McCoury Band for their well-deserved win. The 56th Annual GRAMMY Awards were held Sunday, January 26, 2014. The announcement of the Best Bluegrass Album took place prior to the main award ceremonies.
It was exciting to see Della Mae nominated after their exciting Grand Ole Opry debut and their IBMA 2013 Emerging Artist of the Year award. These fine artists are getting a lot of well deserved attention wherever they perform. Keep an eye on them as this group is going places.
James King is a winner throughout the bluegrass community. His songwriting, musicianship and performances are all award winners. His latest albumm, Three Chords and the Truth is what King is all about--soulful, pure, honest and traditional. It doesn't get much better than this.
The Boxcars are a group of award winning artists and It's Just a Road is a top bluegrass album no matter how you experience it. These guys know bluegrass from the roots up and every branch in between.
Daily & Vincent's Brothers of the Highway has achieved great chart success, critical review and more. Bluegrass fans just love these guys.
All the nominees are award winning class acts. This would have been a difficult choice for many to make. The Recording Academy's selection of Del McCoury Band's album, The Streets Of Baltimore is well deserved. These artists have won numerous Entertainer of the Year awards as well as many others for the band and the individual members. This group is legendary and are certainly deserving. Congratulations to Del and the boys.
Other awards of interest to our audience include "Love Has Come For You" by Edie Brickell & Steve Martin for Best American Roots Song which competed with "Build Me Up From Bones by Sarah Jarosz, "Keep Your Dirty Lights On" by Tim O'Brien & Darrell Scott, "Invisible" by Steve Earle and "Shrimp Po-Boy, Dressed" by Allen Toussaint songwriter.
Best Americana Album award went to Emmylou Harris & Rodney Crowell for Old Yellow Moon. Guy Clark captured the Best Folk Album for My Favorite Picture of You.
It's a long way from his apprenticeship in those Baltimore honky tonks in the late 1950s to his stature as the ultimate bluegrass ambassador today, but Del McCoury's negotiated the path with enough perseverance, humility, good humor, adventurousness—not to mention talent and enthusiasm—to last a lifetime. Along the way, he's earned not just the applause, but the passionate devotion of fans ranging from old-timers who remember those early days to country aficionados drawn in by his collaborations with Dierks Bentley, Charlie Daniels and Vince Gill to tie-dye-clad youngsters who've just learned about him from hearing artists like Phish and the Yonder Mountain String Band rave about—and perform—his music.
And lest you think that the open-mindedness that's led McCoury into so many surprising collaborations and contexts comes from the younger generation, heed the words of Ronnie McCoury, who says of The Streets Of Baltimore, "That one's all Dad's!" And indeed, with sons Ronnie and Rob and their Del McCoury Band colleagues Jason Carter and Alan Bartram spending more time touring as The Travelin' McCourys, the job of choosing songs for the album fell squarely on Del's shoulders—and judging by the results, it's clear that Del McCoury's as creatively inspired as ever.
Where the Del McCoury Band's last two projects—2012's tribute to Bill Monroe (Old Memories) and 2011's collaboration with the Preservation Hall Band, American Legacies —were built around themes, The Streets Of Baltimore shows McCoury and his award-winning band at their most relaxed and free-form. "I just put together a group of songs that I liked," says Del. "And then we got into the studio and tried to make them sound good!"
The recording industry's most prestigious award, the GRAMMY, is presented annually by The Recording Academy. A GRAMMY is awarded by The Recording Academy's voting membership to honor excellence in the recording arts and sciences. It is truly a peer honor, awarded by and to artists and technical professionals for artistic or technical achievement, not sales or chart positions (GRAMMY Awards Voting Process). The annual GRAMMY Awards presentation brings together thousands of creative and technical professionals in the recording industry from all over the world. The recording industry