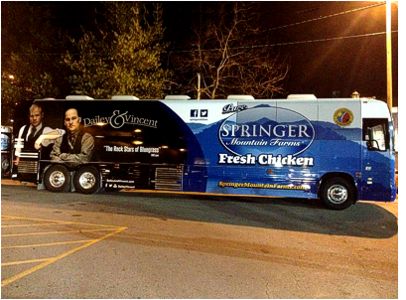 The award winning bluegrass duo, Dailey & Vincent, got all wrapped up in their bus. Or, better, their bus got a new wrap for their sponsors and the band. The group just shared on Facebook the first pictures of the new bus wrap that's been added to their bus, The Mark. They said, "We are honored and thankful to be teamed up with our wonderful friends at Springer Mountain Farms Chicken! We also want to thank our Lord and Savior who for some reason continues to bless us when we aren't worthy. But make no mistake, we are humbled and thankful. Look for us at a show or on a road near you!
Dailey & Vincent is one of the top Bluegrass bands in America. From the very beginning of their partnership in late 2007, Jamie Dailey and Darrin Vincent quickly established themselves as fresh voices in their genre. The concoction of their fantastically powerful vocal blends, 4 award-winning studio albums, and heavy touring schedules has gained them well-deserved attention from bluegrass, country, and gospel critics and fans alike.
Dailey & Vincent has been recognized as 3-time IBMA Entertainer of The Year, 3-time IBMA Vocal Group of the Year, 2-time Grammy nominee, and Dove Award winners. Equally at home with material from any of the aforementioned genres, Jamie and Darrin continue to expand on the possibilities of what kinds of music can become "Dailey & Vincent" music.
The band has also become a perennial favorite on the touring and festival circuit: they play over 115 shows per year to sold out crowds in the United States and have developed a strong international following.
Young but seasoned veterans of bluegrass, traditional country, and gospel groups themselves, Dailey and Vincent have built on the experience and knowledge gained from working with Doyle Lawson (Dailey) and John Hartford and Ricky Skaggs (Vincent) to forge their own distinct career path. Darrin Vincent began his career onstage at age two with his family band, The Sally Mountain Show (and has been singing with his sister Rhonda for most of his life). Jamie Dailey also comes from a musical family: his father, guitarist J.B. Dailey, was a founding member of The Four J's, a regional gospel quartet. Jamie started singing when he was just three years old. By the time he was nine, he was learning to play bass and guitar, and within a few years, he added banjo to his repertoire.
The duo's two most recent albums, Dailey & Vincent Sing the Statler Brothers and The Gospel Side of Dailey and Vincent, both garnered Grammy nominations, but each had a very specific focus. With Brothers Of The Highway, Dailey & Vincent made a conscious attempt to take stock of their careers so far, a sort of look "Back To The Future," heeding the admonition of their friend and mentor Ricky Skaggs, who advised them "you can't know where you're going unless you know where you've been."
The group is now touring and their updated tour list can be found by by clicking here [1] or by visiting them on line at http://daileyandvincent.bombplates.com/ [2]