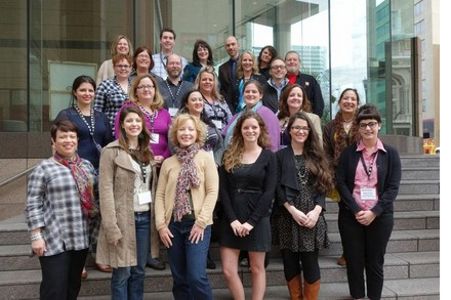 Nashville, TN -- The International Bluegrass Music Association is proud to announce the Leadership Bluegrass class of 2014. Leadership Bluegrass is an intensive, three-day program focused on interactive learning and networking experiences that invite participants to examine the challenges and opportunities facing the bluegrass music industry, along with leadership development issues. This will be the 15th year of Leadership Bluegrass, which now boasts over 350 alumni.
Leadership Bluegrass 2014 will be hosted at BMI and Bone McAllester Norton PLLC in Nashville, Tennessee March 20-22. Trisha Tubbs will return as facilitator. Each year participants, who are invited through a selective application process, represent a cross section of current and future leaders from various aspects of the industry, coming from various regions of the U.S. and the world.
And what might the attendees expect to learn as part of the Leadership Bluegrass experience? Plenty. One of the most interesting things that the class does is to engage in a systematic review of the business of bluegrass and its various institutions and organizations – with a detailed discussion of their needs, problems, and resources.
So what is Leadership Bluegrass, anyway? It's a three-day program (scheduled for March 20-22, 2014 at BMI in Nashville) that is designed to bring together a diverse cross-section of people with a wide range of perspectives on the bluegrass industry for a group discussion and educational experience. This is the place for people who have demonstrated, or are highly motivated to demonstrate, leadership in one or more areas of the bluegrass community. Applicants are carefully selected so that each class has a full and diverse representation of the functional areas of our industry – such artists, composers, publishers, record labels, publishers, broadcasters, luthiers, publicists, managers, agents, event producers, and more. Each class also has a geographically diverse group of participants that includes students from all regions of the United States as well as abroad.
Because each class is unique, each discussion is unique – the perspectives that participants bring to the table offer insights to your classmates. And one of the most exciting things to enjoy as part of the class is the opportunity to sit in a small-group setting with a wide variety of the leaders and notable figures in our industry. Just this past year, the class enjoyed getting to hear (and getting to know) prominent bluegrass and industry personalities including Sonny Osborne, Al McCree, Jay Frank, Jon Weisberger, Alison Brown, Garry West, Stephanie Taylor, Ben Surratt, Missy Raines, Peter Cooper, Craig Havighurst, and many others.
Attendees definitely won't get bored with the range of discussion topics at Leadership Bluegrass. Over the past few years, classes have heard from music industry leaders (and enjoyed active group discussions) on topics including the study and application of leadership principles, entrepreneurship, a profile of bluegrass music consumers, the development of an artist's career, copyright law and its application to the music business, new trends in the presentation of live music, the latest techniques for the digital distribution of music, using social media to add fans and increase attendance at live musical events, and much more. If you want to become more effective at managing your corner of the bluegrass world, Leadership Bluegrass is the place to be.
And of course those who are selected will make a lot of new friends, and maybe even get to jam! They will get to know a lot of new people over your three days at Leadership Bluegrass experience, and many of those people will become new friends and professional contacts. An expanded network is one of the most important things gained from the Leadership Bluegrass experience.
In addition to BMI and Bone, McAllester, Norton PLLC, our sponsors include The Bluegrass Heritage Foundation, Wintergrass Music Festival (Acoustic Sound), and John & Trisha Tubbs.
Congratulations to the following new class members:
Alane Anno, Alane Anno Photography (Hendersonville, TN)
Richard Bicknell, Bluegrass Music Association of Maine (Windham, ME)
Sherrill Blackman, the sdb music group (Nashville, TN)
Seamus Brady, G7th Ltd (Peterborough, UK)
Lizard Thom Case, Bobby's Idle Hour/ Songwriter (Nashville, TN)
Taylor Coughlin, IBMA (Nashville, TN)
Jamie Deering, Deering Banjos (Spring Valley, CA)
Mark Dillon, University of North Carolina Greensboro (Randleman, NC)
Pam Gadd, Songwriter & Musician (Nashville, TN)
John Curtis Goad, East Tennessee State University/ Bluegrass Today (Rogersville, TN)
Pattie Hopkins, Kickin Grass (Winterville, NC)
Nate Lee, Chuck Lee Banjo Company/ Alan Munde Gazette (Nashville, TN)
Ted Lehmann, Ted Lehmann's Bluegrass, Books & Brainstorms (Keene, NH)
Chris Luquette, Frank Solivan & Dirty Kitchen (Alexandria, VA)
Cameron Matthews, AOL Music/ The Bluegrass Situation (Astoria, NY)
Patrick McAvinue, Audie Blaylock & Redline (Parkton, MD)
Matt Merta, Songwriter/Artist/Manager/Freelance Writer (Dearborn, MI)
Daniel Perry, Belmont University (Nashville, TN ), Student Monitor
Claire Ratliff, Laughing Penguin Publicity (Nashville, TN)
Cass B. Scripps, Agency for the Performing Arts/APA (Nashville, TN)
Matthew Slocum, DC Bluegrass Union (Falls Church, VA)
Amanda Smith, Kenny & Amanda Smith (Lebanon, TN)
Anna Sommerville, Northern Bluegrass Circle Music Society (Edmonton, Alberta, Canada)
Rick Sparks, Northern Nevada Bluegrass Association (Reno, NV)
Ashlee Jean Trott, Music City Roots (Nashville, TN)
Vickie Vaughn, Vickie Vaughn Band (Nashville, TN)
The Leadership Bluegrass planning committee this year includes Alan Tompkins (Chair), Louis Meyers (vice-chair), Joan Kornblith, Jean Spivey, Emilee Warner, Ben Surratt, Nolan Lawrence, Trisha Tubbs (facilitator), and Nancy Cardwell (staff liaison).p