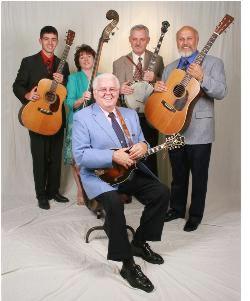 Paul Williams of Paul Williams & The Victory Trio has announced that he has officially retired fromthe road as of December 31st,2013. Paul has performed bluegrass, gospel and bluegrass gospel for years and has contributed to the lives of many fans and followers. Paul's love for music and the Lord began at the early age of nine when his father bought him an "A" model Gibson mandolin to play in prayer meetings and church services. The love and dedication continue today with Paul and his great band traveling all over the country spreading the good news at churches, festivals and benefits.
Dan Moneyhun shares some thoughts on Paul's retirement on the Paul Williams & The Victory Trio FaceBook page [1].
God has richly blessed Paul Williams & The Victory Trio over these years and hopefully we have performed and played songs that has offered hope. God is so good!! Thanks to all our loyal fans and friends who have traveled many miles to be with us at a festival, concert or a church. You are truly our friends. I regret that we didn't give an "official" announcement so that is why I am telling you now.
Dan says that you will probably still see the band members performing "out there somewhere" as they honor God through their music. The group certainly has a long tradition of doing just that.
When you saw or heard the name Paul Williams, the next thought was of a quality person with a great voice and a smooth mandolin lick, using his talents to lift up the name of Jesus. Bluegrass fans love to hear great gospel tunes; however, if you want to feel bluegrass gospel, then Paul Williams and the Victory Trio are the real deal.
Paul's legendary career began with The Lonesome Pine Fiddlers in the '50s; he then went on to become one of Jimmy Martin's Sunny Mountain Boys in the late '50s and early '60s. Paul did an extensive amount of song writing and recording during these years. Some of the songs he wrote during his time with Jimmy–"Don't Cry To Me," "Prayer Bells In Heaven," and "I Like To Hear Them Preach It" to name a few–are considered Bluegrass classics.
In August of 1963, Paul's life was changed forever when he found the most precious gift of Salvation. He retired from the Bluegrass circuits, but continued to write songs and play in churches and radio broadcasts for the next thirty-three years.
In 1995, Paul formed the Victory Trio and played in churches around Morristown, Tennessee, his hometown. While the group was an immediate regional success, it took four years and the proper breaks to achieve national recognition. The band's big break manifested itself as their second self-produced recording Old Ways & Old Paths was re-released on Rebel Records and subsequently nominated for a Grammy in 2000 in the Best Southern, Country, or Bluegrass Gospel Album category.
The band is comprised of some of the best vocal and musical talent around. Paul Williams plays mandolin and sings high lead and tenor. Jerry Keys plays banjo and sings the bass part on certain material. Susie Keys plays acoustic bass and sings on occasion. Adam Winstead plays rhythm guitar and sings most of the low harmony and sometimes lead. Dan Moneyhun plays lead guitar and sings lead and high harmony.
Paul and The Victory Trio have continued to release great bluegrass gospel albums through Rebel Records. As a result of these projects and appearances, they have received many nominations for awards. In 2001, 2002 and 2003, the Society for the Preservation of Bluegrass Music (SPBGMA), and the International Bluegrass Music Association (IBMA) nominated the band for Bluegrass Group of the Year, Bluegrass Gospel-Traditional Group of the Year and Bluegrass Vocal Group of the Year respectively. In 2008, they were nominated for a Dove award by the Gospel Music Association. For 3 consecutive years, the group has been awarded SPBGMA's "Traditional Bluegrass Gospel Group Of The Year" award, one in which the band is especially proud of since it is voted on by the fans. The band was nominated for a Dove award in 2009 for the What A Journey album by the Gospel Music Association.