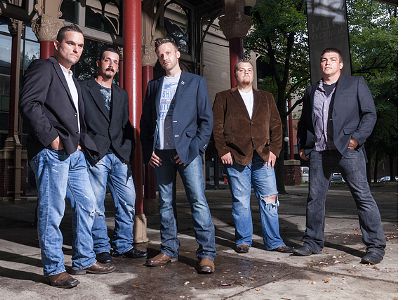 Jamie Dean, band leader of the popular bluegrass music band Cumberland River, yesterday announced that the music group would be disbanding effective immediately. Harlan, Kentucky native Dean and his family recently relocated to Florida due to his new full time non-music job and he has plans to release a solo album in the near future. Band members Dustin Middleton and Jamie Stewart, also from Harlan, along with Brad Gulley and Gary Robinson Jr. will go their separate ways in their music careers, but will certainly always remain lifelong friends.
Cumberland River's popularity grew dramatically when they gained national attention when eight of their original songs were featured on numerous episodes of the hit FX Network's TV show, Justified staring Timothy Olyphant. In 2013, the album Justified: Music From the Original Television Series was released on Madison Gate Records that included Cumberland River's original song, "Justified." The band received a 2013 IBMA Momentum Award nomination and has two albums to their credit – the self-released, "Rock Island Express" along with "The Life We Live" on Rural Rhythm Records.
In April, 2013, Cybergrass announced that Joey Jones was having to end his place with Cumberland River. All of the members had deep Harlan, Kentucky roots which helped give the band their solid traditional bluegrass sound.
The band actually began in 2009 and early on, they decided they would have to write their own material to ensure their music would appeal to both the younger generation as well as the fans of more traditional, bluegrass music. As evidenced by recent reviews from media and radio, plus their growing number of loyal fans, they have certainly accomplished that goal.