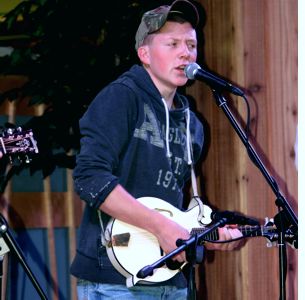 Abingdon, Virginia – The Crooked Road: Virginia's Heritage Music Trail presents a Youth Music Series concert on Thursday, January 9th, from 6:30 to 8:00 p.m. at Heartwood: Southwest Virginia's Artisan Gateway in Abingdon, Virginia. The concert will feature Sycamore Hollow from Lee County.
Formed in early 2013, Sycamore Hollow has transcended genre lines in bluegrass music, blending traditional roots music with contemporary repertoire and energetic performances to create their unique personality. Influenced by the high lonesome sound of the Stanley Brothers to the gritty charisma of the SteelDrivers, the band has performed at regional venues including the Doc Boggs Festival at the Country Cabin in Norton, Virginia. Sycamore Hollow released its debut album, "A Different Frame of Mind", in the fall of 2013 - featuring a mixture of traditional and original songs that personify the band's driving sound.
The Crooked Road Music Series features youth music performers, as well as showcasing venues of the Crooked Road region. These events along with open jams on the 1st, 3rd, (and 5th) Thursday of every month are hosted at Heartwood. A complete schedule for the music series is available on The Crooked Road website at www.thecrookedroad.org [1] or at www.heartwoodvirginia.org [2]. The music series is sponsored by The Crooked Road, Heartwood, Virginia Commission for the Arts, and the National Endowment for the Arts.
Heartwood: Southwest Virginia's Artisan Gateway is located off I-81 at Exit 14 in Abingdon, Virginia and features food, music, and craft of Southwest Virginia. Admission to the concert is free and donations will be accepted for The Crooked Road Traditional Music Education Program (TMEP).
For more information on The Crooked Road Music Series call (276) 492-2409.