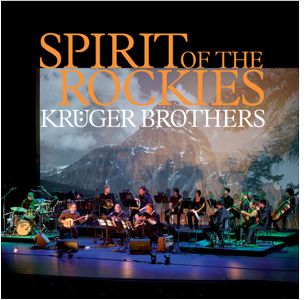 In 2011, Jens Kruger was invited to create a work for The Banff Centre, a commission that recognises his ability as a composer, arranger, and performer, but also his unique ability to combine seemingly disparate cultural and musical traditions within his work. Most recently, he premiered his Appalachian Concerto, a work for banjo, bass, guitar and string quartet. There he used the form of the concerto to draw musical comparisons between the music of Europe and the traditional music of the Appalachian region as well as the cultural history of that region. It was that work, perhaps more than any other, that brought him to the attention of The Banff Centre.
Kruger has responded with a piece that unites the social and ecological concepts that he finds in the Canadian Rockies. Titled "The Spirit of the Rockies," Kruger takes as his theme the awareness of beauty within the region, something that, at times in the past, may not have been as obvious as it is to us today. As Jens has said, "for the English," who were the first European population to settle the region, "the wilderness was something to be conquered." Trade routes, rather than ski trails, was what they were after.
Then, thanks to the railroad that opened up the continent, new settlers came with a very different perspective, that of an appreciation of the uniqueness and delicacy of the environment. It's a perspective that was embodied in the Swiss guides who were the first to blaze the hiking trails, ski trails, and create the mountain retreats that are now emblematic of the region. "They brought an awareness of beauty," says Jens. "Just like we need a friend or a parent to say 'look at this view,' we often need someone to help us recognize beauty as such," a role that those early guides filled through an influence that continues to this day.
It is those themes—appreciation, preservation, and discovery—that provide a focus for Kruger's work. "The spirit of the Rockies," says Kruger, "is our own falling in love and our own understanding of beauty. ... [And the understanding that] we are part of this world, and it is a part of us."
The 2013 Steve Martin Prize for Excellence in Banjo has been awarded to their own banjo player extraordinaire Jens Kruger. Kruger was named as the fourth recipient of the Steve Martin Prize for Excellence in Banjo and Bluegrass Music. Kruger is known for his innovative banjo composition and performance that integrates folk music with European classical music. Kruger is the first North Carolina resident and first winner born outside the of the United States.
The Kruger Brothers are highly regarded within the world of acoustic music in North America, in particular by those within the industry. They gained the attention of some of the musicians, including Bill Monroe, Doc Watson, Tut Taylor, and Bobby Hicks, that once served as models. Watson once said, "The Kruger Brothers are just about as fine a band as I've ever played with... I love to play music with them."