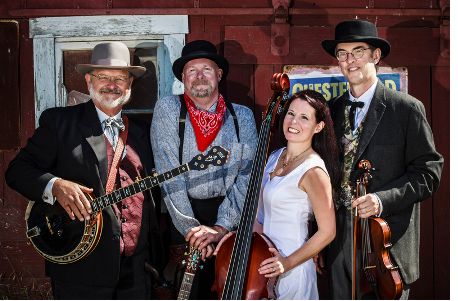 Kathy Boyd tells us that they are getting ready to hit the road again in a few weeks and wanted to be sure you had time to make travel arrangements to attend the Florence Winter Folk Festival [1], if you haven't already done so. This wonderful festival takes place in Florence, Oregon the weekend of January 17 - 19th and this year will feature The Brothers Four, John McEuen, Kathy Boyd & Phoenix Rising, Mike & Carleen McCornack, Barefoot LeRoy, Rick Nestler, The Sagebrush Sisters, 2-Bit Palamino, Catherine Reed, The Three Muses, and Otter Creek."
Kathy also informs us that "we are sad to report that banjo player Tom Tower is still in recovery mode from his recent illness and won't be able to join us, we are beyond thrilled to report that award winning banjo/Dobro master Al Brinkerhoff has graciously agreed to fill in for him for this festival as our guest artist. You can check out Al's bio at http://thunderridgeranch.webs.com/bio.htm [2]"
Tom will be fine and bookings continue for 2014!! The band is looking forward to their appearances at festivals such as the Susanville Bluegrass Festival and the Siskiyou Strings and Threads Bluegrass Festival among others.
Kathy Boyd & Phoenix Rising is all about the stories, and the stories of everyday America are what you get from these four personable entertainers.
Members include the 2008 RMA Bluegrass Songwriter of the Year, the 2010 City Love Music Songwriter of the Year, and lead singer who's songs have been compared to those written by Woody Guthrie and Bruce Springsteen.
Warm hearted, personable and fun, Kathy Boyd & Phoenix Rising are an ensemble who not only connect with the audience from the stage, but who also make every effort to give back to the community in the form of school workshops and assemblies when hired to come to your town.
With multiple CD's receiving airplay around the world, this group has fans everywhere they go, and they work social media well to stay connected with those fans at all times. Bring Kathy Boyd & Phoenix Rising to your event and the world will know about it! This group is guaranteed to deliver. Connecting with people is what they do.