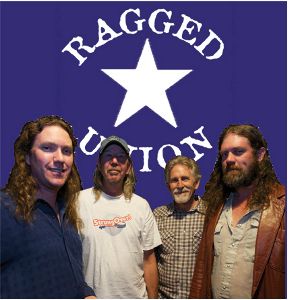 Towards the outer edge of bluegrass, where powerful drive meets outsider songwriting –that's where you'll find Ragged Union. Centered around the flatpicking, singing and songwriting of guitarist Geoff Union (formerly of the Two High String Band), this particular take on the colorful bluegrass tradition combines influences such as Danny Paisley, John Hartford, and Norman Blake, along with Flatt and Scruggs and Bill Monroe. The music has a raw energy, like a steam-powered bluegrass train, driven at full throttle, wheels coming off the inside rails around the bend and slamming down hard in the straightaway. Ragged Union has already booked three shows for January.
Union has been playing, writing, and singing in bluegrass and acoustic bands in Austin, Texas for more than 15 years. He performs a vast repetoire of originals and standards, developed especially over the past several years at regular weekly gigs in Austin and San Marcos. He has performed at RockyGrass, MerleFest and a host of festivals and concert stages across the country with the Two High String Band, and continues to perform with longtime THSB band mate and mandolinist Billy Bright. 2013 festival appearances have included the John Hartford Memorial Festival at Bean Blossom 2013, Fire on the Strings, Houston, Texas, and the Lancaster Music Festival, Lancaster, England.
In September 2012, Union released an eight-song recording of original numbers, Cold As Steel. Over 70 bluegrass DJs have given the CD airplay on their programs. Backed by a tight, five-piece bluegrass band, the album's rhythmically charged style stands apart. While the flatpicking draws strongly from tradition (Watson, White, Rice, Blake, Sutton), the songwriting is a breed unto itself, not for the faint of heart. Listeners are taken on an unexpected journey, venturing into dark territory away from the safety of standard themes of feelings, love and loss.
Geoff and his wife, Christina, moved to Golden, Colorado, in September. The new Ragged Union lineup includes both Unions (Christina taking on tenor and lead singing), mandolinist Jordan Ramsey (Boulder), Shaun Nicklin (Golden) on Banjo, and Jay Allen (Louisville) on upright bass.
Ragged Union (original bluegrass) is excited to announce 3 Front Range shows for the month of January. Please add them to your calendars and start the new year off with Ragged Union on the Front Range of the Rocky Mountains:
Friday, January 17th at Oskar Blues Grill and Brew (Lyons, CO) 8:30pm $10
Saturday, January 25th Zio Romolo's Alley Bar (Denver, CO) 9pm free show
Friday, January 31st Avogadro's Number (Ft Collins, CO) 8:30 (Mike Finnders opens) $10