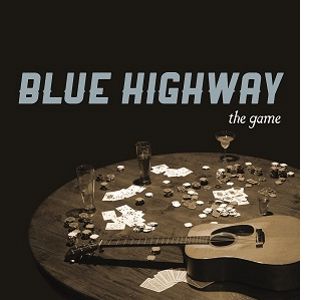 "The Game," the title cut of Blue Highway's new album, is the tale of a rollicking gambler, stylistically kin to songs like the venerable "Wild Bill Jones," and other bad man ballads. It is rife with recklessness, immoral behavior, and gunplay. It is the kind of stuff that abounds in the earliest bluegrass, yet is a new original song. It was written by Blue Highway's Shawn Lane and Alison Krauss' bass player Barry Bales, and sung by Lane with all the fierceness in his wild tenor voice.
The Game, Blue Highway's new album, marks their twentieth anniversary as a working bluegrass band, and the title cut illustrates several of the band's strengths. The accompaniment comes from members of the band, all highly regarded instrumentalists; the vocal is performed by one of three excellent lead vocalists in the band, and the song, while original, harks back to the very roots of bluegrass, and highlights the band's knack for respecting the history of the genre while remaining forward looking. Another Shawn Lane composition, "All The Things You Do," co-written with Shannon Slaughter, was inspired by the recent untimely death of the great Harley Allen, although the lyric never alludes directly to Harley's passing. Lane says that he had first begun thinking of a song along such lines upon the passing of bluegrass great Larry Rice. The lyrics deal with the universal sense of loss felt on such occasions.
A veteran of both Doyle Lawson's and Ricky Skaggs' bands, prized for his voice as well as his mandolin and fiddle virtuosity, Lane has been a key component of the Blue Highway sound, and has contributed many outstanding original songs to the band's oeuvre. Two more examples of that are "Where Jasmine Grows," a co-write with Gerald Ellenburg, and the melancholy "Just To Have a Job," the latter an example of Lane's feeling for the working man, a theme that permeates his best work.
During their twenty years together, Blue Highway has maintained an unusually high level of excellence in their music, consistently turning out bluegrass that's characteristically true to the principles of the genre while remaining both memorable and original. Amazingly, the original personnel from the band (which formed in 1994) remains intact, a remarkable achievement in itself, given the frequent mixing and matching of personnel that is more the norm (banjo player Jason Burleson did leave for a short period early on, but soon returned to the band)
The band's remarkable chemistry was, according to the individual band members, evident from the start, and accounts in large part for their longevity. From a somewhat haphazard beginning-the band initially formed primarily to play weekend gigs, but quickly grew into something else-they quickly developed into a powerful and popular group with a compelling, immediately recognizable sound.
Guitarist Tim Stafford, a native of Kingsport, Tennessee, smack in the middle of one of the cradles of country music, had just left Alison Krauss and Union Station. He was road weary, a new father, and unsure of the next step in his personal evolution. searching for ways to remain connected to the music, Tim consented to do an article on a band for Bluegrass Unlimited, met Wayne Taylor, a member of that band, and was impressed enough with Taylor's talents as a bassist and singer to begin thinking about some day forming a band with him. That band became Blue Highway in relatively short order.
An early product of East Tennessee State University's famed bluegrass curriculum, Stafford was and is a historian of the music a very real sense. He brings that sensibility to every Blue Highway recording. His amazingly fluid guitar style is much admired as well, as is his lead and harmony singing and songwriting chops. "Remind Me Of You," a co-write with Craig Market, is a perfect example of the kind of modern bluegrass imagery of which Stafford is capable, and evidence of the mature lyricist he has become.
"A Change Of Faith In Tennessee," a song written by Stafford and frequent collaborator Steve Gulley, is a remarkable vocation of the disillusionment of a love once so right now gone wrong. Taylor's lead vocal is appropriately melancholy. 'Church Bell Wedding Blues," written by Stafford and Jon Weisberger, although taken at a jaunty clip, is a "happy" blues with
traditional feel.
'My Last Day In The Mine," written by band mates Stafford and Taylor, has the feel of a country classic, which it may well become. The lyrics express the feelings elicited by the worst news every working man dreads. Unusually, the vocal here is rendered not by a band member, but by a young guest vocalist and band protégé, Trey Hensley. Surprisingly, the band didn't 'hear" any band member doing the lead vocal on this Stafford and Taylor collaboration, feeling it needed a more classic lead vocal, perhaps by a well-known country stylist. Meanwhile, the album's engineer suggested that Hensley could lay down a scratch vocal until the final decision was made. Hensley, a young man with an eye to a future in music, did such a wonderful job that the band decided to go with it on the final product. The feeling in the band is that no one will be surprised if much more is heard from this song AND the young guest vocalist.
The album's last song, "Hicks's Farewell," is an example of the delving into the music's past that Stafford's music history raining inspires from time to time. It is a shape note type hymn that Stafford has wanted the band to record for a long time, and is an inspired choice. Lane and Taylor's vocal duet is truly haunting.
Rob Ickes, the only member of the band not originally from an area associated with traditional bluegrass, is from the San Francisco Bay region. His mother and older brother played in local bluegrass bands, and when he heard a recording of Dobro great Mike Auldridge for the first time, he says his fate was pretty much sealed-at the age of thirteen.
After playing in myriad jams and with several bands in the Bay area and Sacramento (near U. C. Davis, where he attended college), Ickes set out for Nashville in 1992 to make his living as a Dobro player. How well he has succeeded is illustrated by the fifteen (and counting) IBMA Dobro Player Of The Year awards he's received, the countless recording artists with whom he's recorded, and perhaps most importantly to him, the long term success of the band in which he is an equal partner, Blue Highway.
His career as a successful session player has proceeded apace with the success of the band, and he has also recorded his own solo albums, as well as albums with the jazz oriented trio Three Ring Circle, and others.. His instrumental work provides a large element of Blue Highway's signature sound, from the drive and verve on up-tempo numbers to the nuanced fills on their ballads. He composes many original instrumentals, a notable example of which is this album's rambunctious "Funny Farm," which in addition to his instrumental fireworks, also showcases Lane's fiddle and Jason Burleson's banjo to great effect. --
Jason Burleson, from rural North Carolina, rounds out Blue Highway with his powerful banjo playing. He also enjoys playing several other instruments and styles. His knowledge of string band jazz and other forms of music runs deep, and his musical sophistication is reflected in his original tunes in the band's repertoire, a wonderful example of which is "Dogtown," one of two instrumentals on the album.
The band collectively mentions their fondness for the music of progressive bluegrass giants Tony Rice, David Grisman, J.D. Crowe, and Bela Fleck, among others. Burleson says that one secret to the band's success is that it is a democratic outfit, without a single leader. Tim Stafford points out that with a truly democratic five-member band, there is a built-in tiebreaker in every vote. "We are very much like a little family," Tim goes on, "just one that doesn't see each other all the time."
The band is scattered over the southeast, from Virginia to South Carolina to North Carolina to east Tennessee to Nashville. They have never felt the necessity of being road dogs to the extent that they hit it for 200 days a year. "We decided early on at we'd rather own our own homes than own a bus together," says Burleson, laughing.
In discussing the reasons why the band has lasted for twenty years, one is struck by the unanimity in the names mentioned as influences by band members. Wayne Taylor, originally from Virginia and familiar early on with the traditional bluegrass sound, turned away from the music for a time, but was brought back upon hearing the Seldom Scene, the band which first brought Ickes' model Mike Auldridge to national prominence. Taylor says he tells the Scene's Ben Eldridge that he is at least partially responsible for whatever he has become musically, when after eighteen years of driving a coal truck, he joined the fledgling Blue Highway. Taylor's resonant lead voice is one of the wonders of the bluegrass world, the perfect instrument for expressing his own songs--including the driving "Talk Is Cheap" on this album-sand his strong bass playing nails the band's pulse in place.
Every member of the band expresses in one way or another the importance of having a band full of writers. "The original material is a huge asset for the group," says Stafford, "and it is always fun to come together and see what everyone has. I do enjoy those times. There has never been a bluegrass band with this many writers and singers that does mostly all original material, so it's special." blues with
traditional feel.