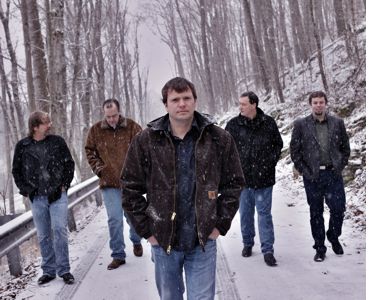 Nashville, TN --- The reigning IBMA Instrumental Group of the Year adds yet another honor to its growing list of accolades. The Boxcars (www.theboxcars.com [1]) have received a GRAMMY nomination for Best Bluegrass Album for It's Just a Road. Less than four years ago, five artists with impeccable musical pedigrees and a passion for "just playing good bluegrass" came together to form The Boxcars. Although the members have winced at the term, the band has been often called a "supergroup" for the storied careers of its members: Adam Steffey, Ron Stewart, John Bowman, Keith Garrett and Harold Nixon. Still, the artists welcome each honor with characteristic humility.
"To say I am surprised about our nomination would be an extreme understatement," says mandolin virtuoso Adam Steffey. "This is something that you can only dream will happen one day, and here it is – a Grammy nomination. This project is one that we are all particularly happy about and to get this kind of recognition is so inspiring for us as a band. We love what we do and love recording and playing live and hope that we can make a lot more music before we're through!"
It's Just a Road displays the band's versatility with a variety of elements that include Swing, Old Time, Gospel and quite possibly the finest Bluegrass heard anywhere. The album showcases the musical prowess of this phenomenal band with twelve dynamic tracks executed with the emotion, precision and cleverness that define The Boxcars, five artists who simply love to play and play together.
"It's such an honor to get to play and sing with such a great group of guys," says guitarist and singer Keith Garrett. "It's Just a Road exemplifies how serious everyone in the band is about our craft. From writing, song selection, and arranging to performing, engineering and mixing, I think it's obvious that each member did his best to make this a memorable project."
It's Just a Road is available from Mountain Home Music, based near Asheville, NC or online at iTunes [2] or Amazon [3].
The 56th Annual Grammy Awards will be held at the Staples Center in Los Angeles. The show will broadcast on CBS on January 26, 2014.
ABOUT THE BAND

Adam Steffey

An East Tennessee native, he served early stints with the Lonesome River Band (Dan Tyminski was his replacement there) and then helped to found the near legendary group, Dusty Miller, along with Barry Bales and guitarist Tim Stafford. Alison Krauss recruited the three into Union Station, and for nearly seven years, Steffey was with the high profile band through Grammy awards and IBMA trophies, extensive touring, and worldwide press. By 1998, Steffey turned his attention to new adventures when he helped to lay plans for what would become Mountain Heart, and joined bluegrass gospel favorites The Isaacs. He is arguable the most recorded mandolin player in recent music history.

Ron Stewart

Ron Stewart is becoming a legend in contemporary bluegrass music. He is already one of the most sought after multi-instrumental session players, and is in high demand as an engineer and producer. Stewart grew up in rural southern Indiana, an hour and a half from the famous Bill Monroe's Bean Blossom bluegrass festival, surrounded by a family that played bluegrass and old-time country music. In his thirty-three years of playing banjo, fiddle, guitar, bass, and mandolin, Ron has gone from fronting his family band for over ten years to working with a who's who of bluegrass, including Lynn Morris, Curly Seckler, a guest appearance at age nine on a live album with Lester Flatt, and, most recently, a six-year stint as fiddler for JD Crowe and The New South, followed by a stint as a member of the Dan Tyminski Band.

John R. Bowman

Born in Mayberry, worked for Alison Krauss, and married to one of the Isaacs. John R. Bowman was steeped in the rich musical heritage of Virginia which lead to his joining Doyle Lawson's Quicksilver in 1991. He recorded 4 cds with Quicksilver. During the summer of 1991, he met back up with his old buddies from a group called Dusty Miller: Adam Steffey and Barry Bales who were playing with Alison Krauss. By September of 1992, Alison had asked him to join her band as Dan Tyminski was going back to the Lonesome River Band. He played with Alison about 15 months. In 1994 he married Becky Isaacs and worked with them for over 12 years.

Keith Garrett

Keith Garrett grew up in East Tennessee. His dad taught Keith to play the guitar at the age of thirteen and he was drawn to the music of such greats as Tony Rice, Keith Whitley, the Bluegrass Album Band, Doyle Lawson & Quicksilver, and Ricky Skaggs. In 2000 Keith became a founding member of Blue Moon Rising, an East Tennessee based bluegrass band that received national acclaim and was nominated for "Emerging Artist of the Year" in 2006 by the International Bluegrass Music Association. As a member of Blue Moon Rising, Keith continued to hone his talents and earned himself a place alongside some of the best singers and songwriters in bluegrass.

Harold Nixon

Harold Nixon has been a working musician since he was 15 years old, and has had an intense interest in recording almost from the beginning. With a keen ear and a rock solid sense of rhythm and timing, he has gained the respect of the very best in the business, eventually leading to a six year stint with JD Crowe and the New South, touring in the band and appearing on the Grammy nominated record "Lefty's Old Guitar."
ABOUT THE BAND