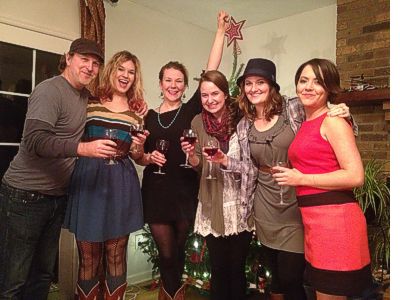 Nominations for the 56th Annual Grammy Awards were announced by The Recording Academy. The Boxcars, Dailey & Vincent, Della Mae, James King and the Del McCoury Band lead off for the Best Bluegrass Album Grammy Award nominations. This is always an exciting time for bluegrass bands and probably even more exciting for the International Bluegrass Music Association's (IBMA) Emerging Artist of the Year Della Mae. Della Mae has had an outstanding year getting recognized, nominated and awarded for top awards in music. The Grammy nomination adding to their year.
This World Oft Can Be, Della Mae's Rounder debut, shows that like The Avett Brothers, The Lumineers, and Punch Brothers, the five multitalented young women of Della Mae are respectful of American musical tradition, but not restricted by it, combining centuries' worth of musical influences with an emotionally tough, undeniably modern songwriting sensibility.
When The Boxcars released It's Just A Road in April 2013, members of the band fielded the usual interview questions about song selections, style, process creative decisions and more. Both eloquently and quite simply, Adam Steffey summed up the process, the project and the band philosophy in general with characteristic aplomb, saying "What's wrong with just playing good bluegrass?" Good bluegrass indeed. The album has garnered a Grammy Nomination for Best Bluegrass Album in the 56th Annual Grammy Awards (which will be broadcast from Los Angeles on 1/26/14). It's Just A Road is the 3rd album from The Boxcars.
Acclaimed bluegrass group Dailey & Vincent released their sixth studio album, Brothers Of The Highway, on May 7, 2013. The eagerly anticipated follow-up to 2012's Grammy-nominated The Gospel Side of Dailey & Vincent features a pair of original Jamie Dailey compositions as well as ten stirring and evocative new interpretations of songs made famous by the likes of Vince Gill, the Louvin Brothers, Kathy Mattea, Bill Monroe, Cody Shuler & Pine Mountain Railroad, George Strait, and Porter Wagoner.
"I am extremely passionate about this album. It is a reflection of my heart, my soul, and my love for great music," said Dailey. "When it was time to record this album, Darrin and I knew exactly what we wanted it to be. We both agreed that it was time to record a straight-ahead Bluegrass record consisting of a blend of original songs and songs from the past that we absolutely love. We know where we came from, and we know where we want to go. We feel this record is in step with our musical dreams, and we are excited for people to hear it!"
"Brothers Of The Highway" has been a labor of love for us," adds Vincent. "We wanted to make an album about the joys of a simple way of life and tell stories through descriptive lyrics about friends, family, and love. I am so proud of this album. From the bottom of my heart, I hope you enjoy these songs as much as we enjoyed performing them for you."
From the earliest days of his performing career, James King has been an advocate for and exponent of the traditional sound in bluegrass. King continues to be a bluegrass favored artist who's always a top draw. His heartfelt lead vocals and robust delivery demonstrate both his familiarity with and love for traditional "old school" bluegrass, country, and gospel music. He loves strong, honest lyrics, and is a master of finding what engineer Steve Chandler has referred to as "the James spot:" that stark, exposed nerve, where the emotional truth of the song lives. When it happens -- and it happens often on Three Chords and the Truth -- it is an amazing thing to hear.
It's a long way from his apprenticeship in those Baltimore honky tonks in the late 1950s to his stature as the ultimate bluegrass ambassador today, but Del McCoury's negotiated the path with enough perseverance, humility, good humor, adventurousness—not to mention talent and enthusiasm—to last a lifetime. Along the way, he's earned not just the applause, but the passionate devotion of fans ranging from old-timers who remember those early days to country aficionados drawn in by his collaborations with Dierks Bentley, Charlie Daniels and Vince Gill to tie-dye-clad youngsters who've just learned about him from hearing artists like Phish and the Yonder Mountain String Band rave about—and perform—his music. McCoury brings it together on The Streets of Baltimore in pure Del fashion.
A young Sarah Jarosz find her name in a couple of categories including Best Folk Album and Best American Roots Song for Build Me Up From Bones. Bluegrass friends Tim O'Brien & Darrell Scott, Steve martin, Jim Lauderdale and others also received nominations for their work.
Nominations of interest include:

Best Bluegrass Album

It's Just A Road - The Boxcars
Brothers Of The Highway - Dailey & Vincent
This World Oft Can Be - Della Mae
Three Chords And The Truth - James King
The Streets Of Baltimore - Del Mccoury Band

Best American Roots Song

"Build Me Up From Bones", Sarah Jarosz, Songwriter (Sarah Jarosz)
"Invisible", Steve Earle, Songwriter (Steve Earle & The Dukes (& Duchesses))
"Keep Your Dirty Lights On", Tim O'brien & Darrell Scott, Songwriters (Tim O'brien And Darrell Scott)
"Love Has Come For You", Edie Brickell & Steve Martin, Songwriters (Steve Martin & Edie Brickell)
"Shrimp Po-Boy, Dressed", Allen Toussaint, Songwriter (Allen Toussaint)

Best Americana Album

Old Yellow Moon - Emmylou Harris & Rodney Crowell
Love Has Come For You - Steve Martin & Edie Brickell
Buddy And Jim - Buddy Miller And Jim Lauderdale
One True Vine - Mavis Staples
Songbook - Allen Toussaint

Best Folk Album

My Favorite Picture Of You - Guy Clark
Sweetheart Of The Sun - The Greencards
Build Me Up From Bones - Sarah Jarosz
The Ash & Clay - The Milk Carton Kids
They All Played For Us: Arhoolie Records 50th Anniversary Celebration - (Various Artists) Chris Strachwitz, Producer
Congratulations to all the nominees!/dd