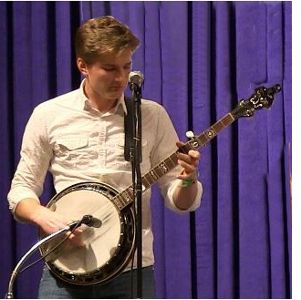 Banjo player announced, "I thought I'd write a little note about the circumstances of my leaving The Clay Hess Band, since a good deal of my friends have been asking, and for some reason, people always seem to assume the worst." The change isn't due to anything wrong -- quite the contrary. The band has announced on Facebook that Zach Gilmer has joined the Clay Hess Band on banjo.
John says, "The truth is, it was a completely mutual decision. I am wanting to focus more on playing music with my family in the long run, and both groups have multiple dates next year that would've conflicted with each other. Clay knew this, and had enough respect for Meyer Bluegrass Band to not want to see us split up, either. So that was cool."
John continued saying, "I hate to disappoint anybody by not having a heart wrenching story of some bluegrass drama...but there just ain't any here."
John really enjoyed performing with the Clay Hess Band as long as he did, and he looks forward to seeing them at different venues down the road!
The Meyer Bluegrass Band is made up of four siblings from Bolivar, MO. They are the winners of the 2013 SPBGMA International Band Contest. The band consists of John Meyer: Banjo, Lead Vocals & Harmony; David Meyer: Fiddle, Guitar, Lead Vocals & Harmony; Mary Meyer: Mandolin & Harmony; and
Jimmy Meyer: Bass & Harmony. Obviously, you can't disturb a 4 sibling lineup like that!
John joined the Clay Hess Band in July 2012 at the age of 19. While with the band, he also had his family band. There were just too many conflicts to manage performing with both.
Zach Gilmer, 21, plays both guitar and banjo and has performed with with Sierra Hull and Highway 111, Carrie Hassler and others. He will be a welcome addition to the Clay Hess Band.