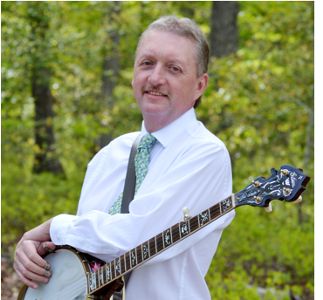 I a sudden announcement, banjo artist Barry Crabtree announced, "I'm no longer playing with the James King band so if anybody needs a banjo player or some fill in work let me know, thanks." Barry is an accomplished artists as he's been playing banjo most of his entire life. Most recently, he has been performing with the James King Band. He is now actively seeking new opportunities and getting ready for the next path in his musical career.
Barry was born and raised in Clay City, KY and began playing the banjo at age 7. Learning from and playing with a host of regional musicians and acts throughout his youth, he's most widely recognized from the 11 years he spent with Larry Sparks & the Lonesome Ramblers. While with Sparks, Barry helped create a catalog of music that is now considered some of the best in bluegrass music's history.
He was also part of the group Wildfire, which was one of the many take-offs of musicians that tutored under the great J.D. Crowe before setting out on their own. The group included four past members of the New South along with Barry, and became wildly popular on the bluegrass circuit in a very short time.
After high school Barry spent 11 years with Larry Sparks and the Lonesome Ramblers. During this time he recorded 3 albums for Rebel Records. He then spent 5 years with a fantastic group, Wild and Blue which consisted of Moody Bluegrass Producer David Harvey, his wife Jan and sister Jill Snider. Barry pulls all the plugs when he throws down some skillful banjo playing on Moody Blues songs "Ride My See Saw" and "I'm Just A Singer In A Rock And Roll Band."
Barry is admired among banjo players for his aggressive and fast picking but to the trained listener, he's also exceptional at playing behind a singer and providing tasteful back-up to the group. It's a unique style that is not easily imitated. Here's just a short list of projects where you can find Barry performing:
Moody Bluegrass Two, Various Artists
Rattle of the Chains, Wildfire
Where Roads Divide, Wildfire
Musicians Against Childhood Cancer, Various Artists
Moody Bluegrass, Various Artists
Journey On, Wild & Blue
40, Larry Sparks
Silver Reflections, Larry Sparks
Gonna Be Movin, Larry Sparks
Travelin, Larry Sparks