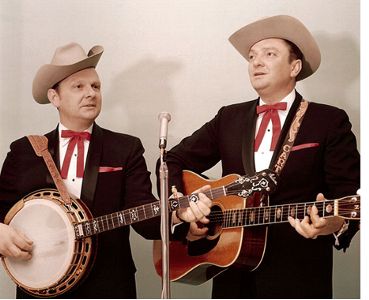 Dixie Hall of Good Home Grown Music writes, "Successful Stanley Brothers commemoration response has encouraged us to extend our reminiscences of everything Stanley beyond the anniversary of Carter's passing, December 1, 1966. View Jack Cooke performance here, our beloved "Cookie", who also passed on December 1, 2009."
She continues, "Seems like, as this is the Stanley year, let's take it on out with a heap of spins of Keith Whitley, Charlie Sizemore, Ralph II, James Alan Shelton, Roy Lee Centers, Ricky Skaggs, Melvin Goins, Larry Sparks, George Shuffler and John Rigsby. (Also such as Ralph & Tom T. - The Water Lily on Saturday Night/Sunday Morning, Col. Isaac Moore, Junior Sisk & Joe Mullins, Don Rigsby - Doctor's Orders: A Tribute To Ralph Stanley, The Spinney Brothers - I Wish That I Could've Met Carter, just to name a few. :-) )"
In our initial story regarding this tribute, December 1st is a Day to Salute The Stanley Brothers [1] we included a nice video. Good Home Grown Music has sent us a collection of other Stanley related videos to enjoy.
Worried Man Blues - The Stanley Brothers

Single Girl/Married Girl - Keith Whitley/Ralph Stanley II

The Mountain Doctor - Don Rigsby

If I Lose - featuring Charlie Sizemore

Ralph Stanley on Keith Whitley & Ricky Skaggs

Will You Miss Me - featuring Keith Whitley

I'll Fly Away - Bill Monroe & Ralph Stanley

December 1st being the anniversary of the loss of Carter Stanley we're asking Stanley fans around the world to put their hands together and join spirits commemorating two gentlemen who personify the foundation of traditional mountain music.