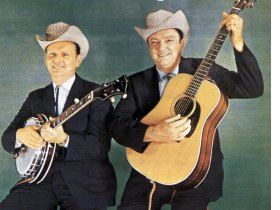 December 1st being the anniversary of the loss of Carter Stanley we're asking Stanley fans around the world to put their hands together and join spirits commemorating two gentlemen who personify the foundation of traditional mountain music.
During a lifelong career, Ralph has recorded at least 170 albums which includes 30 on Rebel Records and 20 years worth of recordings with Carter. Both have written many more (at least a month's worth of spins to refresh the listeners minds once in a while during a frantic month of the Christmas hustle and bustle). :) This, of all years, is truly the time to stand behind our legends and spread appreciation for the amazing legacy they have passed on to us.
"I love the recognition that Dixie Hall, the Spinney Brothers and the good Lord are giving my dad, Carter Stanley. I miss this man that I never knew. I would gladly give back all the money his music has made to have him back with me now."
~ Jeannie Stanley
Brother Don Rigsby took off from Australia earlier yesterday, homeward bound for Thanksgiving. Don has been sharing his Doctor's Orders, a tribute to Dr. Ralph, with our friends down under. I pray the weather improves, I wouldn't want to share an airport with Don if forecasted weather delays keep him from his family for dinner on Thursday. It will be a blessing to hear Don is home in Isonville, Ky and all is well with the world.
We don't have a video of Don doing The Water Lily from this tribute but we thought you might enjoy this one of Tom T. with Dr. Ralph & the great James Alan Shelton, indeed some rare footage from Bean Blossom, Indiana.