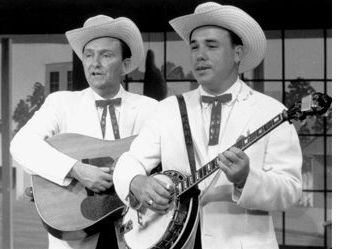 Shelby, N.C. – Fifty-one years ago on November 26, 1962, Columbia Records released "The Ballad of Jed Clampett," a bluegrass number performed by Lester Flatt and Earl Scruggs that would become the hallmark sound of The Beverly Hillbillies.
A preamble to the CBS sitcom that ran from 1962 to 1971, "The Ballad of Jed Clampett" spent 20 weeks on the Billboard Hot Country chart—even landing at #44 on the Billboard Hot 100.
The single features a driving banjo melody made possible an upward, three-finger picking style popularized by Earl Scruggs, resulting in a sound that was both unmistakable and original.
Following its release, the recording helped bring bluegrass into the American mainstream, redefining the banjo's appeal across genre while inspiring a new generation of musical artists.
Among those inspired include GRAMMY award winners Vince Gill, Travis Tritt and Sam Bush, who will be joining together early next year in Shelby, NC, to celebrate the grand opening of the Earl Scruggs Center—an interactive museum showcasing the life and region that inspired his music.
Opening the week of Earl's 90th birthday, the Center brings new life to the 1907 Cleveland County Courthouse through exhibits and performances that highlight the people and places influential in the evolution of bluegrass music.
For more information on the Earl Scruggs Center and their grand opening event, "Remembering Earl: Music & Stories," visit www.EarlScruggsCenter.org [1].