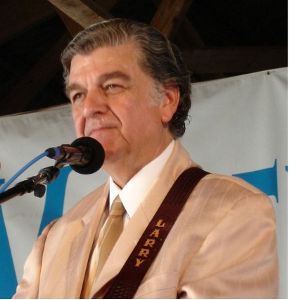 Great Mills, MD -- Jay Armsworthy, promoter and creater for Bluegrass for Hospice writes about the big success for this year's event. "On Saturday October 26, 2013 was the 5th year for the Bluegrass for Hospice. It's a one day Bluegrass music event where all proceeds went toward the Hospice House. The event took in $29,181.68 this year. In 5 years, Bluegrass for Hospice has raised $97,315.00 for the Hospice House. This finally makes this event one of the biggest fundraisers for the Hospice of St. Mary's."
This years festival was bigger and better than ever with 2 headliners and the rest of the day filled with local entertainment. Alongside of Rebel Recording Artist Larry Sparks was Junior Sisk & Ramblers Choice who records for the same record label. It was a Rebel Bluegrass day! Local Bluegrass talent included Jay Armsworthy & Eastern Tradition (event promoter & coordinator), Charlie Thompson & Bottom County Bluegrass, Bubby Abell & Spoon Creek, and Bluegrass Gospel Express. The always popular, Gracie's Guys and Gals Dancers gave a short dance performance to Bluegrass music, and 15 Strings. Troy Jones provided the sound for the day.
Bluegrass for Hospice is a one day music festival and a family oriented event that is a fundraiser for our local Hospice House of St. Mary's County. Last year Bluegrass for Hospice-2012 raised $23,000.00 with a $2,500.00 increase from the previous year. In its 5th year of success, this event has grown to be the largest fundraiser for our local Hospice of St. Mary's. The event was inspired by Jay Armsworthy when his 2 Grandfathers past several years ago. The mission of Hospice is to provide physical, emotional, and spiritual support to terminally ill patients and their families and bereavement care to those families and the community. Hospice of St. Mary's is a 501 (c) 3 organization.
Armsworthy would like to say thanks for all the kind words that they received about the festival. He also appreciates all the words of encouragement given in person and through the various blogs and social media. As always, they all had a blast putting this together and had a representation from at least 4 states. Cybergrass has been a promoter of Bluegrass for Hospice [1] for many years.
Armsworthy also gives thanks to all of the performers: Bluegrass Gospel Express and thanks for your generous donation of your CD sales, Bubby Abell & Spoon Creek, Charlie Thompson & Bottom County Bluegrass, 15 Strings, Gracie's Guys & Gals Dancers, Shelby Thompson, and my band, Eastern Tradition. Every band on stage was fantastic and Junior Sisk & Ramblers Choice was icing on the cake. The event helped Larry Sparks celebrate his 50 years in Bluegrass music. He was surprised with the presentations.