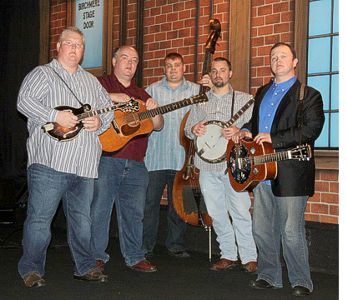 The end of year band member changes have commenced and this time around American Drive will also be participating. Today comes the announcement that two of their members, guitarist Rickey Wasson and banjo picker Josh Hymer have departed the group. As you may recall, this band was formed when JD Crowe's former New South members continued on under a new name after JD retired from a full time performance slate.
"Change constantly looms in this industry and Matt DeSpain, Kyle Perkins and myself are fully committed and prepared to carry on" states bandleader Dwight McCall. "We have worked very hard to launch this group and will stay the course, playing the same brand of music that we recorded on our debut CD and performed over the past year."
"We would like to thank everyone for their continued support, including our fans and promoters alike," continues McCall. "After our new members are in place we plan to immediately enter the studio to record a new CD. I have a lot of original material that we are eager to share with our fans."
McCall's "Long Haul Trucking Man" on Rural Rhythm records was a #1 on the Bluegrass Today weekly chart last December.
Wasson cited the demands of his personal business and wishing to spend more time with family as his grounds for exiting the band. Hymer, also a guitarist, intends to pursue music interests in another genre.
Of the member departures McCall states, "We understand and respect their decisions and wish them nothing but the best in the future. We thank them for their past year of service with American Drive."
The audition process for the new members begins immediately. Although the band has a few names in mind, all interested parties are encouraged to submit for consideration. "We are eager to hear from all of the excellent talent out there and excited to get started" says McCall.