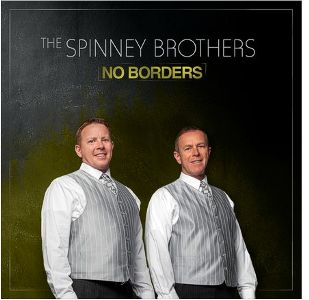 The Spinney Brothers latest CD, No Borders, is experiencing quite a bit of chart success as of late. This month, it moves from the #10 spot to #6 on the Bluegrass Unlimited National Bluegrass Survey's Top 15 Bluegrass Albums! And in October, it was #1 on Canada's Galaxie Bluegrass Chart. The album's first single, "Grandpa's Way Of Life" moves up to #5 on the Top 30 Songs Chart while "I Want My Dog Back", a fan favorite, has made its debut this month at #26. The Spinney Brothers are especially excited about their newest single, "I Wish That I Could Have Met Carter," written by Dixie Hall. The song, which features a guest appearance by Ralph Stanley II, was released as a single just last month and has already made it's way to #10 on the Bluegrass Today November Songs Chart!
The Spinney Brothers, continue riding high on the success of their new album No Borders, with the release of the second single from the album titled "I Wish That I Would Have Met Carter," today. Released on Mountain Fever Records, the song was penned by legendary songwriting duo Tom T. and Dixie Hall.
No Borders marks the band's second release on the Virginia based label and is produced by well-known bluegrass musician Ron Stewart, who's recognizable fiddle playing can also be heard on several songs throughout the record. It contains a freshness towards and an excitment for traditional bluegrass music that is an identifying hallmark for their music. The album, in general, speaks right to the heart of their appreciation of those who came before them and that same theme can be heard in the new single, "I Wish That I Would Have Met Carter."
Comprised of Allan Spinney, Rick Spinney, Gary Dalrymple, and Adam Pye, The Spinney Brothers are originally from the Annapolis Valley of Nova Scotia and debuted in 1992, showcasing a tight brother duet vocal style that was immediately recognized for its energetic and distinctive sound. The cornerstone of their musical identity is their thorough understanding of traditional, southern-flavored bluegrass music.
Amy Orlomoski, Host of WHUS Radio's Bluegrass Café, out of the University of Connecticut is thrilled with the Spinney Brothers music and says, "After 20+ years of touring, the Spinney Brothers are on the path to becoming an "overnight success" in the world of Bluegrass."
The first generation bluegrass legends have been an important musical influence, yet the Brother's music is equally shaped by their personal lives and rural heritage. By incorporating original material, which draws from various sources, the Spinney Brothers effortlessly intertwine the past with the present.
The Spinney Brothers duet singing, backed by supportive and complimentary instrumentation, is the foundation of their tasteful and recognizable sound.