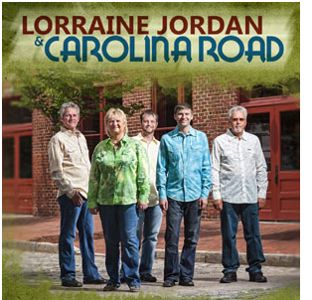 Nashville, TN: "That's Kentucky", the latest single from Lorraine Jordan & Carolina Road's self-titled album from Pinecastle Records, debuted at number one on Bluegrass Today's Monthly Airplay Chart. The tune logged 968 total spins in October. "That's Kentucky" has also been in the top spot for the last two weeks on Bluegrass Today's Weekly Airplay Chart.
"I am honored, excited and feel extremely blessed," said Lorraine Jordan. "Thank you to all of our fans that helped make "That's Kentucky" number one. It is a great song written by Tom T. Hall, Dixie Hall and Troy Engle about the Bluegrass State, and I personally feel like we need more songs to remind us of where our music came from. I'll keep the tradition alive through songs like this."
Lorraine Jordan & Carolina Road's distinct sound and old time flair can be attributed to bluegrass-rich area of North Carolina from which they hail and borrow their name. As the founding member and bandleader, Lorraine Jordan's showmanship and chemistry with the audience makes the group one of the most popular bands among bluegrass fans today. Lorraine Jordan & Carolina Road is comprised of Lorraine Jordan (mandolin and tenor vocals), Tommy Long (baritone vocals and guitar), Josh Goforth (fiddle), Ben Green (banjo), and John Bradley (bass).
The band has earned a reputation as one of the hardest working bands in bluegrass, averaging 60 bluegrass festivals in the U.S. and Canada annually along with headlining the Bluegrass Cruise and hosting the Canadian Bluegrass Awards, Christmas in the Smokies Bluegrass Festival and Bluegrass in Cherokee. The band's self-titled album from Pinecastle Records was released on September 10, 2013. Their previous release, Back to My Roots, achieved commercial and critical success, charting on Bluegrass Music Profiles Top 30 Singles, and Top 10 Album Chart and reaching #1 on the Bluegrass Unlimited Charts. For more on Lorraine Jordan & Carolina Road, visit www.CarolinaRoadBand.com [1]
Make Welcome Entertainment provides management and publicity services for bluegrass, roots and country artists. With offices in Nashville, Tennessee and Washington, DC, Make Welcome is well positioned to focus on the details so artists can focus on making great music. To learn more about Make Welcome Entertainment visit www.MakeWelcome.com [2]