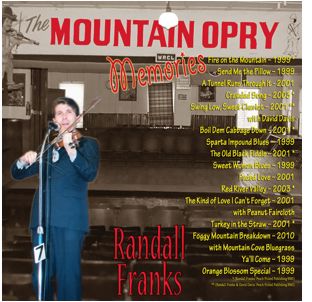 International Bluegrass Music Museum Legend Randall Franks shares his talents for a new Share America Foundation fundraising CD. "Mountain Opry Memories" is a collection of impromptu performances recorded live at the Mountain Opry in Walden, Tenn. on Signal Mountain.
"One of the favorite places my late mother Pearl Franks loved to go was the Mountain Opry," he said. "Of course, each time I took her, I found myself on stage sharing a few songs for the audience ably assisted by volunteer musicians also appearing that night."
Franks is best known as "Officer Randy Goode" from TV's "In the Heat of the Night," a role he performed on NBC and CBS from 1988-1993. He stars regularly in films for UpTV and starred with Robert Townsend in the series - "Musical Theater of Hope." His most recent film is "Lukewarm" with John Schneider, Nicole Gale Anderson and Bill Cobbs.
The Independent Country Music Hall of Fame member was honored in 2013 by Georgia Gov. Nathan Deal for his community service and philanthropy benefiting the people of Georgia.
Franks's musical stylings have been heard in 150 countries and by more than 25 million Americans. His musical career boasts 19 album releases, 19 singles, and over 200 recordings with various artists from various genres. The award-winning fiddler's best selling release, "Handshakes and Smiles" was a top twenty Christian music seller. Many of his albums were among the top 30-bluegrass recordings of their release year.
The Atlanta Country Music Hall of Fame member shared a top country vocal collaboration with Grand Ole Opry stars The Whites. His work connects him with 33 International Bluegrass Hall of Fame, 10 Country Music Hall of Fame, 9 Gospel Music Hall of Fame, and 3 Rock and Roll Hall of Fame inductees. In addition to his solo career including 13 years guest starring for the Grand Ole Opry, Franks is a former member of Bill Monroe's Blue Grass Boys, Jim and Jesse's Virginia Boys and has performed with Jeff and Sheri Easter, The Lewis Family, the Marksmen Quartet, the Watkins Family, Elaine and Shorty, "Doc" Tommy Scott's Last Real Old Time Medicine Show and Doodle and the Golden River Grass.
Enthusiasts of Southern Appalachian music began the Mountain Opry in 1979. "We work to provide a place for folks to gather from all around the world and hear the authentic singers and musicians of our region perform and jam," said Ken Holloway, Mountain Opry president.
Franks recalls his first appearance there was as a youth with the multi-award winning Marksmen Quartet. "The Mountain Opry is free and held each Friday night inside a 1920s auditorium that has found entertainers from around the country appearing on the stage that has been the focus of a long-running radio show and several television specials," he said.
The CD project was the brainchild of producers Tom Adkins of Chattanooga, Tenn. and Tom Morgan of Dayton, Tenn. who initially desired to document a joint performance by Adkins and Franks at the venue.
"Tom Adkins met me as a youth at Stone Mountain's Yellow Daisy Festival in Georgia," Franks said. "Tom often shared encouragement with me and backed me at fiddle contests. Co-producer Tom Morgan also was an early encourager in my musical life and continues to play a role to this day including bringing me to the attention of my grandmother's ancestral home in Rhea County, Tenn. who honored my career with an exhibit alongside Curly Fox in its Courthouse Museum."
Engineer Martin Fisher of Middle Tennessee State University assisted in preparing the 2001 recordings featuring Adkins and Franks. Tom Adkins is a pioneering Tennessee Valley multi-instrumentalist marking 71 years of performing. Among the groups he performed with are Lock Stock and Barrel, Down Yonder, Bill Lowery and the Lookout Valley Boys, Maynard Renfro and the Hymn Time Gang, Weldon Turner and his Turnovers and the Tennessee Hy-Ryders. He was a regular for many years appearing with various acts at the Mountain Opry.
Adkins said he sees the project as a way to continue the work of encouraging youth in Appalachian music started by the Share America Foundation, Inc. through its Pearl and Floyd Franks Scholarship and also provide some funds for the Mountain Opry, which also benefits.
"Music is a wonderful part of my life," Adkins said. "I wanted to do this in remembrance of my late wife Faye who also shared a love of music that she supported me in enjoying. Once Tom and Randall became involved, the project became much more than I could have imagined as Randall added songs from many performances creating a unique listening experience."
Morgan, a legendary bluegrass and folk musician joined served as co-producer. He is a pioneering member of the legendary bluegrass group the Country Gentlemen. He and his late wife Mary entertained throughout the country recording for Folkways Records and supporting legendary performers such as Grand Ole Opry star Curly Fox and fiddler Benny Williams. The duo was founders of the Chattanooga Area Friends of Folk Music. A multi-instrumentalist and luthier, Morgan also performed with Buzz Busby, Red Allen & Frank Wakefield and the Kentuckians.
"While the music is off the cuff, it represents the synergy between performers sharing their talents for an audience with all the fun and magic of our musical heritage in a way that reflects such a wonderful legacy," he said.
Randall Franks engineered the remainder of the recordings spanning from 1999-2010. "We worked to bring the collection together in a way that reflects a full show even though the recordings span many appearances," Franks said.
Following an introduction by Holloway, Franks opens with the upbeat "Fire on the Mountain." He then navigates the audience through a variety of comedic comments and stories such as "A Tunnel Runs Through It," country and western standards including "Send Me the Pillow," "Red River Valley," "Crawdad Song," "Ya'll Come," and songs unique to his career like the "Sparta Impound Blues."
He welcomes special guest David Davis for a live gospel duet "Swing Low, Sweet Chariot" and joins the late country pioneer Charlie "Peanut" Faircloth and a country band for "The Kind of Love I Can't Forget."
n the tradition of the Southern Appalachian fiddle bands - Adkins and Franks both fiddle on tunes including "Boil Dem Cabbage Down," "Faded Love," and "Turkey in the Straw" and Adkins plays behind Franks as he sings "The Old Black Fiddle."
In keeping with his focus on encouraging youth, Franks, who serves as president of the Share America Foundation, is joined by the Mountain Cove Bluegrass Band including three Pearl and Floyd Franks Scholars for the bluegrass standard "Foggy Mountain Breakdown."
"This CD project is a tremendous way for people to support two ongoing programs that provide an opportunity for youth to grow on stage in the traditional music of our region while offering the opportunity for folks to find quality family entertainment," said Joe Turner, Share America chairman. "And of course, through our program it enhances our ability to encourage them as they pursue their college education."
Franks closes his show with the support of members of the Valley Grass who appear on many of the cuts by performing "Orange Blossom Special."
Musicians who donated their performances for the project are Randall Franks - fiddle and guitar, Terry Hatfield - guitar, Brian Blaylock - mandolin, Stacy Wilcox - banjo, Randy Pryor - bass, Tom Adkins - fiddle, Ken Holloway - guitar, John De Grote - bass, David Davis - mandolin, Charlie "Peanut" Faircloth - harmonica, Charles Chambers - guitar, Joe Chambers - guitar, Rocky Ramsey - guitar, Gary Denham - bass, Jimmy Givens - banjo, Merielle Flood - bass, Cody Harvey - banjo, Mike Holloway - bass, Wil Markham - fiddle, Colin Mabry - guitar, Tyler Martelli - harmonica and mandolin, and Austin Adkins - guitar. Photography for the CD was donated by Brother Andrew Thorne and Randall Franks.
"The Mountain Opry has offered an amazing place for musicians to grow and learn," Franks said. "I am honored that I was one of the many who stood on stage there through the years and I hope that the music continues emanating there for years to come."
The Share America Foundation produces 10 fundraising Sacred Sounds Fridays concerts annually at the Ringgold Depot in Ringgold. Their next event is Nov. 8, 2013 at 7:30 p.m. Randall Franks "Mountain Opry Memories" is available for a $16 donation at www.shareamericafoundation.org [1] or to the Share America Foundation, Inc., P.O. Box 42, Tunnel Hill, Ga. 30755. It is also available for download on Itunes and Amazon.com. Fans may also Like the CD on Facebook. For more information about Franks, visit www.randallfranks.com [2].