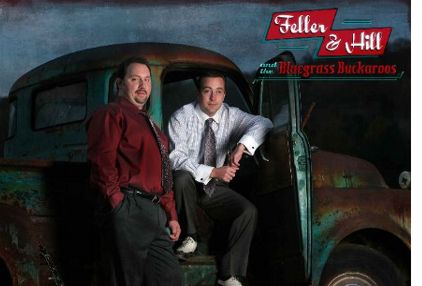 Tom Feller informs us, "as our first year of touring together as Feller and Hill draws to and end, we are very thankful for the many positive responses we have received. We have enjoyed meeting new fans and hearing how much they enjoy our brand of music and and appreciate our entertaining presentation of that music."
Then, he hit us with the big news... "We are even more excited to announce that our debut release, 'Feller and Hill and the Bluegrass Buckaroos', has been submitted for Grammy consideration. We humbly ask for your support in the balloting process. We could not have even been a consideration for this process, had it not been for all the encouragement and support from the many fans, radio and media personalities, who've helped make our dreams a reality."
Feller and Hill and the Bluegrass Buckaroos adjusted their band lineup recently. Three new artists have taken up their positions with Feller and Hill. The band has announced that Glen Inman (aka,Cookie) on bass, Steve Day on fiddle and Mark Poe on guitar have recently joined the Bluegrass Buckaroos lineup. Work is already in progress for the next Feller and Hill album with the new lineup, which will be completed in time for a Spring 2014 release. In addition, two more album projects will be announced in the coming months.
Formed in the tradition of such legendary duos Flatt and Scruggs and the Osborne Brothers, Tom Feller and Chris Hill are also heavily influenced by classic country greats Buck Owens and Ray Price. Thus was born Feller and Hill and the Bluegrass Buckaroos. Feller's solid, expressive lead vocals blend seamlessly with Hill's razor-sharp tenor vocals, culminating in an exciting new duo, Feller and Hill.